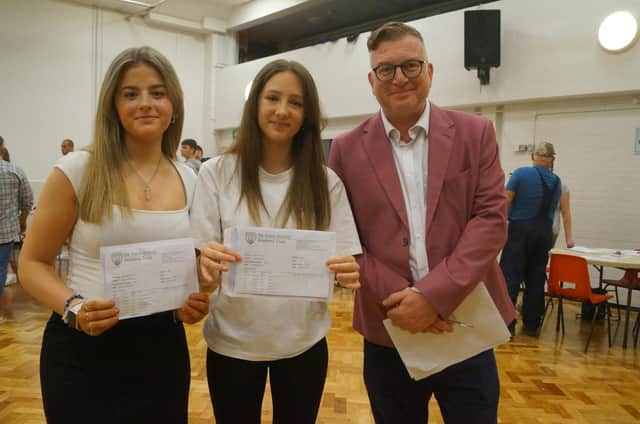 Year 11 Results: 'Outstanding' achievements for De Aston pupils
Outstanding achievements have been reported at Market Rasen's De Aston School as students received their GCSE and Vocational qualifications today (Wednesday).
Published 24th Aug 2023, 11:32 GMT
This year, the school's Year 11 pupils achieved s69 grade 7s, 34grade 8s and 13 grade 9s in GCSE courses. In addition, there were 17 Distinction Star grades in vocational courses.
GCSE English Language and GCSE English Literature achieved a combined total of six grade 9s. There were also grade 9s in GCSE Maths, GCSE Physics, GCSE Chemistry,
GCSE Biology, GCSE French, GCSE Russian and GCSE Religious Education.
In Vocational Qualifications, there were an impressive ten Distinction* grades in Hospitality and Catering, five in BTEC Sport and two in Construction.
Simon Porter, De Aston's headteacher, said: "As is the case every year, there are stories of success for those that overcame great hardships in their personal lives by adopting the
school's growth mindset approach, truly embodying the school's mantra of Believe. Strive. Achieve.
"This is also a year group that suffered from extensive disruption during their secondary education due to the Covid pandemic. In addition, this is the year when GCSE grades are being brought back down to the 2019 pre-Covid levels with significant reductions in the highest grades awarded across the country, with estimates suggesting that there will be 300,000 fewer grade 7-9 grades awarded this year.
"That makes the achievements of De Aston pupils even more impressive.
"We hold Year 11 in high regard for what they have achieved on an individual level, no matter what the grades are, each achievement is down to their personal effort and has to be understood in light of their personal context.
"We have provided extensive support for them and I want to pay tribute to those staff who gave up their time to run lunchtime, afterschool and Saturday sessions for both Year 11 and Year 13, providing hundreds of extra hours of teaching and intervention.
"Result days are all about the young people and they deserve all they have earned.
"I am really looking forward to seeing the vast majority of the year group come back to us to study at De Aston Sixth Form to continue on their seven-year journey with us and join all those who are enrolling with us from other local schools."