Autistic teenager shortlisted for award after mum's horse-riding accident
A teenager from a village near Sleaford who helped save her mum after a horse-riding accident, has made the shortlist in the Air Ambulances UK Awards of Excellence 2023.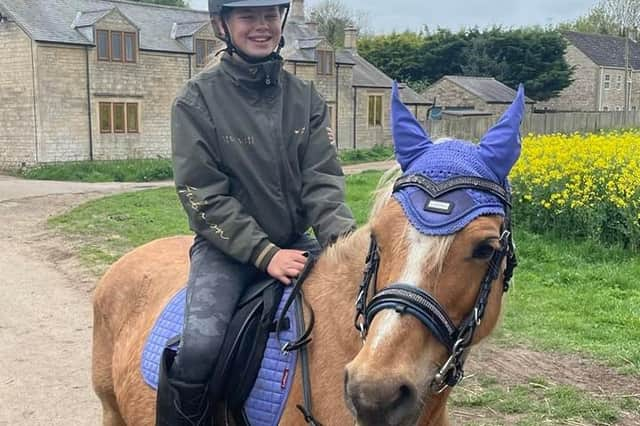 Molly Harris from Ancaster, was nominated by Lincs & Notts Air Ambulance in the 'Young Person of the Year' category, in recognition of her bravery as well as showing unwavering determination in her fundraising efforts,
despite having her riding boots, saddle and tack stolen.
These annual awards celebrate and recognise the specialist lifesaving skills and commitment of those working tirelessly within and in support of the air ambulance community across the UK.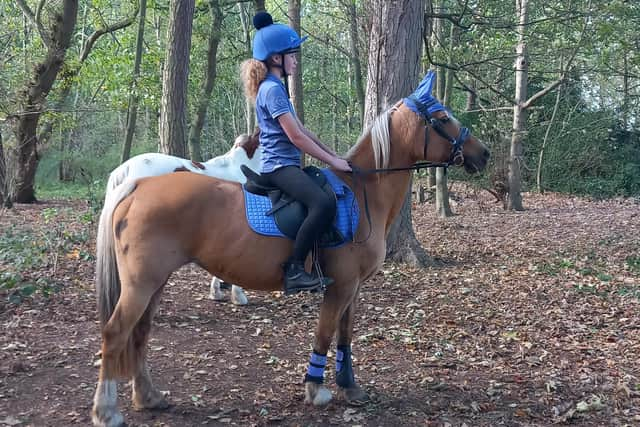 Back in December 2021, Molly, 13, was cleaning the crew yard when her mum's horse, Rodney came galloping towards her riderless. In that moment, as the 19-hand horse came towards her at speed, her first thought was to run.
Molly has high functioning autism and experiences sensory overload from too much noise or stressful situations. But as she realised her mum may be in danger she had to overcome her instincts to shut down.
That day, Molly's mum, Emma had taken advantage of the brisk wintery weather and gone for a ride. Their route took them down a quiet track alongside a field where a lone tractor driver was working. That was the last thing Emma remembers. Her next memory was waking up in hospital a few days later.
Emma's horse Rodney had been spooked by the tractor and jumped into the air. Emma was thrown to the muddy ground, landing on her neck.
She suffered a brain injury and severe swelling around her spinal cord, causing the loss of feeling from the waist down. But the outcome could have been even more traumatic for her if it was not for the actions of her daughter Molly.
After making sure Rodney was secure, Molly ran around the nearby fields shouting for her mum, and then meticulously began to slowly search further away. The first time she went down the track she missed her mum but the second time she found her on the ground motionless.
This would be hard enough for any young person to deal with, add in the fact that Molly suffers from autism, and it shows how brave her actions were.
The Lincs & Notts Air Ambulance crew were in the air within eight minutes of the 999 call being made. Although the situation was confusing for Molly, she knew that she needed to stay with her mum.
Dr Adam Chesters and Paramedic Jenny Mealey were soon by Emma's side, delivering emergency pain relief and assessing the damage to her spine, before moving her onto a stretcher ready for the flight to hospital. The
flight was delayed as Emma suffered a seizure prior to take-off and in the air, she suffered similar seizures.
Molly wanted to do something to thank the crew who worked in those muddy and cold conditions, looking after her mum.
She said: "They were amazing and reassuring in every way. They saved my mum's life, and they keep other families together too."
In May 2023, she decided to take up Lincs & Notts Air Ambulance's 6k a Day in May challenge event with her beloved horse, Princess. Disaster struck as halfway through the month thieves broke into the tack room and stole her bridle, saddle and boots. But in the face of adversity, Molly simply completed some of the days riding bareback to ensure she did not fail. At the end of the month, she had completed well over 6k a Day in May, raising £180.
Molly is so determined to continue supporting LNAA that she has now decided to take up Lincs & Notts Air Ambulance's 'Mission Possible' challenge and aims to complete 100k in September.
Emma said: "I cannot express just how proud me, and her dad are of our daughter. That day would have been terrifying for any child let alone Molly. From organising Rodney's safety, calling her dad, racing to find me, and staying with me. I have no recollection of this, so when I was told I choked up, knowing the extent that Molly went to and under so much pressure."
More than 18 months later, Emma is still in recovery. Emma had suffered from epilepsy before the incident and the head injury has exacerbated the condition.
Simmy Akhtar, CEO of Air Ambulances UK, said: "Congratulations to all those who have been chosen as finalists for the Air Ambulances UK Awards of Excellence 2023. All nominees are extremely talented, and our judging panel had the unenviable task of finalising the shortlist for all categories."
The winners will be announced on the 30th November, at a ceremony in Reading.