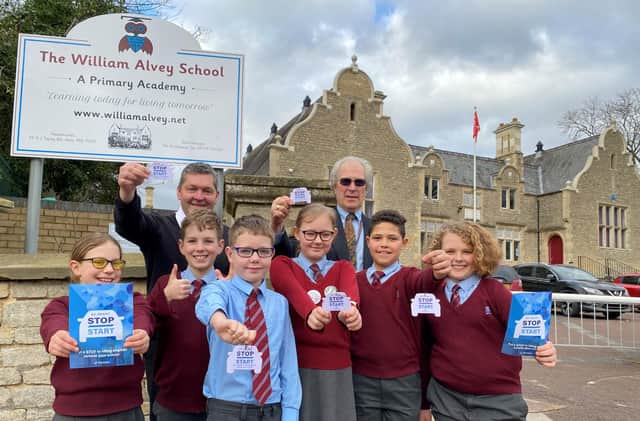 impact on air quality from of cars idling, along with leaflets and branded air fresheners to serve as a constant reminder in parents' cars.
The council plans to roll out this work to other schools and communities in a bid to improve air quality for all young people across the district in the wake of national concerns about children's health in traffic polluted areas.
Children at the William Alvey primary school were instantly eager to share their new-found knowledge with their families at home-time.
This latest initiative accompanies ongoing monitoring at the school, with a special solar-powered 'Zephyr' air quality monitoring station having been installed outside in July 2022.
The data produced from this station shows that the air quality is at its best during school holidays, and at its worst at home-time.
NKDC Executive Member for Environmental and Public Protection Coun Mervyn Head said: "We'd like to see air quality improve throughout the district but it's a particular concern around schools because of the impact it can have on children and the high concentration of drivers at peak times.
"Everyone can make a difference by switching off their engines when they're waiting, such as at level crossings or when picking someone up. It reduces pollution but will also save you money. So, as the air fresheners we're sharing today say: Be Smart, Stop – Start."
Headteacher at William Alvey School Stephen Tapley said: "It's about improving the air breathed by our children at the school.
"We'd also encourage families to consider alternative transport."
According to the council, idling vehicles emit more pollutants than stopping and starting the engine.
It is especially important not to idle near schools because research shows that exposing children to high levels of air pollution can stunt lung growth, as well as causing behavioural and mental health problems.