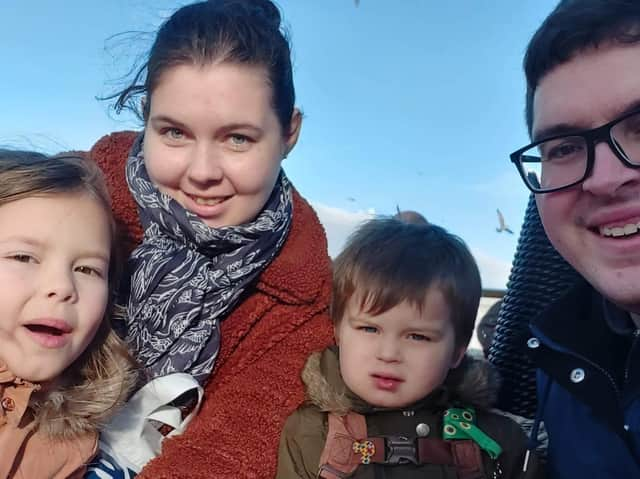 Lauren Loveley was planning to get some training in for the start of her week-long Walk for Autism challenge on March 26.
Her three-year-old son, Ralph, was diagnosed with Autism Spectrum Disorder (ASD) in December last year after a year-long battle to get the help she needed.
"I first suspected autism when Ralph was around 18 months old," Lauren said. "He never responded to his name, he had a very strong obsession with spinning wheels - and by strong obsession I mean he would flip his pram over to spin the wheels and turn all his toy cars over and spin the wheels.
"He would also be obsessed with lining up toys but it had to be in his way and nobody was allowed to touch them or alter his line otherwise he would get very upset and lash out.
"Ralph was also very routined (still is) He used to hate crowded places and loud noises and was extremely fussy with food (to which he still is now).
"We got lots of support from many professionals during the wait for Ralph's referral to the paediatrician.
"When that day came it all mixed emotions as I knew, deep down, he had Autism but to then be told from someone else that "yes he does have autism", the reality of it hit, knowing it wasn't in my head."
Ralph's communication is still an issue and the family are getting loads of professional help through emails, teams meetings and phone calls.
They are also having to use PECS (picture cards to help with communication ).
"Ralph still has no danger awareness," said Lauren. "Every day if different - we have good and bad days. Having the diagnosis didn't make much of a difference as I knew it for long."
Ever since Ralph's diagnosis, Lauren said she has had many mums message her with concerns about their own children.
"It is lovely knowing I can help in some way by sharing my story," said Lauren. "Every child with autism is different, so what my son can or can't do may not be the same for someone else's child.
"But hearing the reasons why they suspect their child may have autism takes me back the start of my journey with Ralph, noticing signs and asking, is it autism or is it just a phase?"
Lauren came across the Walk for Autism charity event on Facebook a few months ago.
Each day between March 26 and April 2 , she will be walking/ jogging/ or running 10k steps per day to raise money and awareness.
She has set a target of £150 and has already raised half.
"I'm not just doing it for my boy but for many other parents who have an autistic child or who are on the pathway to getting there child diagnosed," said Lauren.
"I'm also doing this as something positive during such an uncertain time. Lockdown has been hard for everyone. It's affected my mental health and now I have something to focus on, something to work towards."