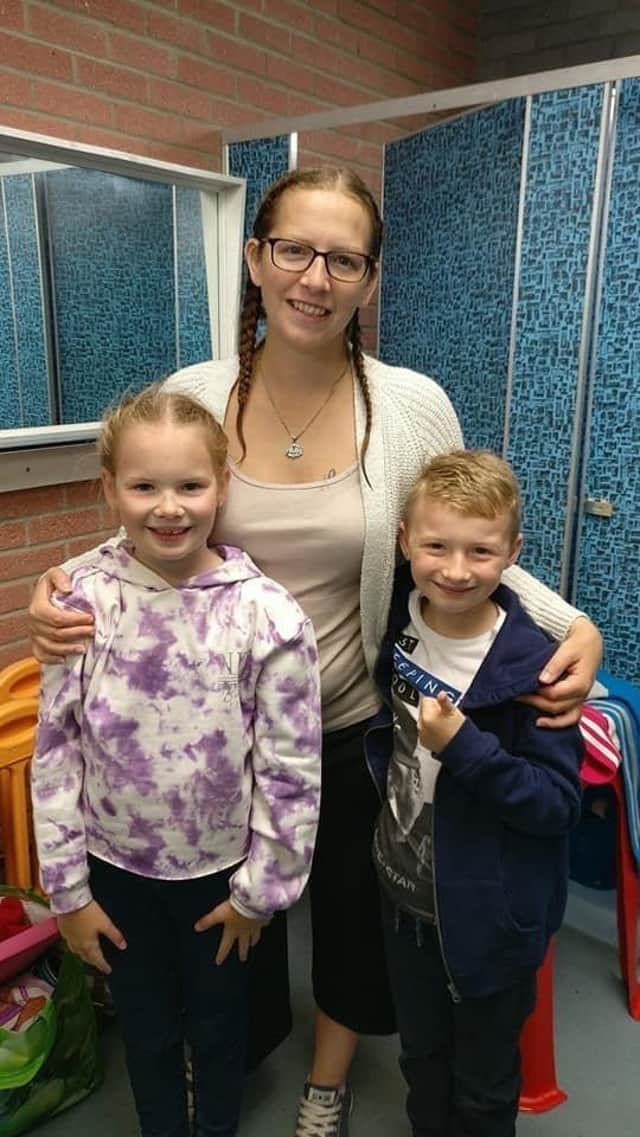 Lawrie Roberts of Fishtoft suffers from Chiari Malformation Type 1, which affects the spinal cord, but has refused to let it stop her from continuing with her beloved dance classes.
Mum Kim Friend says her daughter is inspirational, and that she is incredibly proud of Lawrie.
She says it was Lawrie's decision to have her hair cut for charity, which is due to take place this weekend.
Lawrie will be having 12 inches of her hair cut off, with the locks themselves going to The Princess Trust, which uses them to create hairpieces for children who have had to have their hair shaved for medical reasons, and money raised will go to the ward where Lawrie has spent a lot of her time after operations.
Kim said: "The money will go to Ward E40 at The Queen's Medical Centre in Nottingham where the nurses, consultants and play worker Julie (who is very special to Lawrie) were amazing! I could not have asked for better people to look after my daughter."
Lawrie is due to get her hair cut this Saturday (22 February) and the money pledged so far stands at over £350.
Kim says Lawrie, who goes to Hawthorn Tree Primary, is determined to give something back for the treatment and care she has been given over the years.
The condition first became apparent when Lawrie was just two and told her mum she had a headache. After she had mentioned it a few times over four or five months, Kim decided to get it checked out.
"Doctors weren't too worried but because of her age they referred her to the Paediatrics team at Pilgrim Hospital where she was sent for an MRI," said Kim.
"Within a month I had a call to say that Lawrie had Chiari Malformation Type 1 and needed an MRI of her spine," said Kim.
It was then she was referred to a paediatric neurologist at QMC in Nottingham, and the condition was explained in more detail.
Since then, she has had two long spells in hospital for decompression surgeries, were they remove some bone from the back of the skull and from top vertebra.
Lawrie had her first surgery in April 2017 when she was five, and her family ended up going backwards and forewords between home, Pilgrim Hospital in Boston and QMC for around three months.
"They couldn't seem to get Lawrie's pain under control. It was worked out that Lawrie's anxiety was really bad and mimicking her pain and headaches from straight after her surgery. "She ended up so poorly losing loads of weight. It was so scary seeing my baby girl so poorly, I really thought I had lost my little girl. Not physically but mentally," said Kim.
"The staff on the ward were amazing with Lawrie and myself, being away from Rylie (Lawrie's younger brother who is now eightO and the rest of the family made it harder."
Lawrie had her second surgery in April 2017 on her seventth birthday.
Kim says: "Again the staff were great, they gave her a birthday card and a present. They decorated the bay that her bed was in for when she came out of surgery.
"This time her recovery was a lot better, she was back at school and dance class three weeks later and two months after she took two dance exams which she got Honours in both."
The dancing is something Lawrie loves to do and is determined to keep going, attending the Josie Clarke Academy of Dance and Acrobatic arts JCADA where she does ballet, tap, modern, flexibility, belly dance and Acro.
"Lawrie gives 110% even when she isn't feeling well," said Kim. "In her Acro class which is a mix of dance and gymnastics she is not allowed to do headstands or some moves that would put pressure on her head or neck."
With her symptoms currently at bay, her day to day life is not affected too much at the moment.
But Kim says she will never be free from the condition. "It can start up at anytime. But they start she suffers with headaches, neck aches, pains in her lower back, pins and needles in her arms and legs. Her legs qive way, she is always exhauted. Through the night she would suffer with either pains in her neck or a stiff neck and she gets night terrors. She hates that her condition limits things she can do, and says: 'I just want to be normal!'
"And Rylie worries a lot about her condition, hates her getting poorly in case she has to go in to hospital again."
Lawrie is a little anxious about having so much hair cut off, and her mum says it is a big deal as she has always had long hair.
"After her first surgery the whole length of her hair was matted to the back of her head. It took seven weeks for me to tease it all out. At the time the hairdressers said it's either that or it will have to be shaved off.
"I am so proud of Lawrie. She has been through so much in her life. She is a true Chiari Princess. She is truly inspirational,
"To donate her lovely long hair to children that have lost their hair, when five years ago she nearly had to have hers shaved off, is amazing."
Lawrie herself said: "I'm really excited but a bit nervous about getting it cut. But I'm glad about sending it to make wigs for poorly children who have lost theirs.
"I can't wait to go and see Julie and the nurses and qive them the money donated."