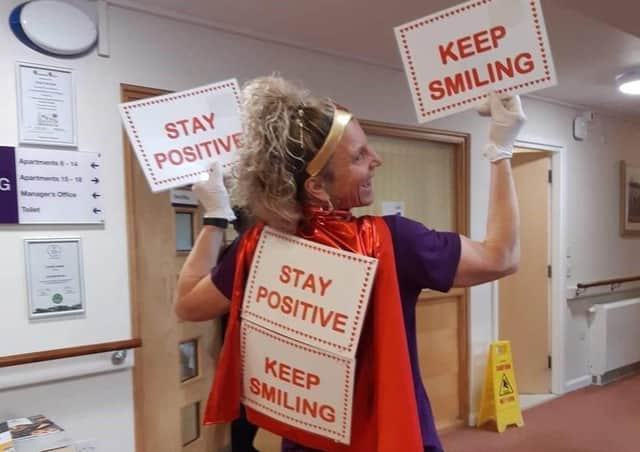 Debbie Prince
Debbie Prince, from Anchor Hanover's Reverend Bill Baker Court, in Broadway, was thrilled to win an Anchor Hanover Colleague Award after her colleagues put her name forward due to her dedication to helping the people who live there.
Debbie, who has worked at Reverend Bill Baker Court for nearly five years, won the peer-based award which is given to Anchor Hanover staff who go the extra mile for those in their care, as she has been helping residents of Reverend Bill Baker Court with all their needs while social distancing.
From organising shopping to helping residents keep in touch with loved ones, Debbie has been dedicated to helping where she can. Debbie has also found a unique way of cheering everyone up by wearing a superman cape while at Reverend Bill Baker Court to give the residents a bit of a laugh when they see her!
Debbie has said her motto is "stay positive and keep smiling" and she has more than lived up to it while making sure everyone is keeping positive and smiling as well thanks to her.
Two people who have sung Debbie's praises are Reverend Bill Baker Court resident Ada Wells, 88, and her daughter Susan Salmon who currently lives in Turkey.
Debbie set up a special video conferencing system for Ada to allow her and Susan to speak on a regular basis, enabling them to keep in touch.
Ada explained: "Debbie has been absolutely wonderful.
"She's been helping all of us with everything we need and has made time for all of us. Making us all laugh with her wonderful superman cape! Being able to speak to Susan was really important for me and I have Debbie to thank for it."
Susan was also keen to thank Debbie, saying: "Debbie is an absolute godsend. I just don't know how Mum would have fared without her.
"Mum needs this contact with us, and Debbie enables that.
"Debbie is worthy of any and all recognition bestowed upon her. She goes out of her way to help everyone."
Frank Bartle, District Manager of Reverend Bill Baker Court, said: The Colleague awards are a recognition of exceptional dedication and positive work and Debbie has more than earned hers.
"She has worked extremely hard to ensure everyone under her care is well looked after and has done so with a smile on her face and a determination to put a smile on the faces of everyone she meets as well.
"We've had people giving care workers their rightful recognition for the past ten weeks with weekly rounds of applause and awards like this continue to acknowledge 
those who help older people in our care."