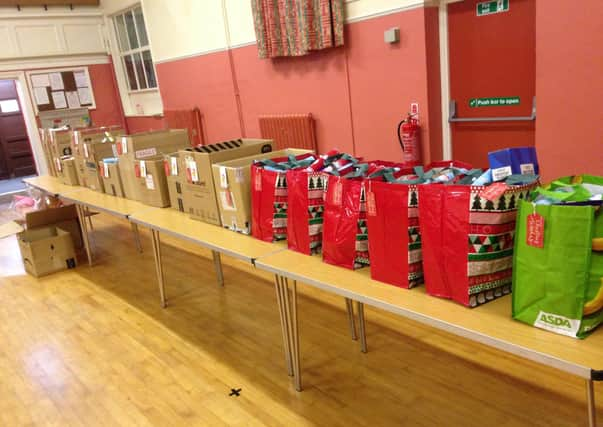 Lindsey Gresham-Fulton of Martin And Timberland Emergency Support said: "Within an hour of the new lockdown being announced, MATES put up a Facebook post reminding people that we can do their shopping and fetch prescriptions so that they can stay at home. This service has been available since the first lockdown and we've helped more than 60 households so far, in Martin and Timberland and the surrounding area."
The group, which won an NK Community Champions award, are now offering a foodbank service linked to Lincoln Community Larder.
Lindsey said: "We then collect the allocated food parcels from the Lincoln depot and deliver them locally. This new venture started in mid-December, but with schools and businesses closed again we anticipate that the need will increase."
Anybody in that area experiencing financial hardship due to lockdown or isolation can contact Nicky Wilkes on 07557 853952. Donations of food and household items are collected every week and delivered to the larder too.
MATES has remained active throughout the year. In the week before Christmas they provided 17 festive food hampers for local families identified by Mrs Mary King's School in Martin. Lindsey said: "We used the harvest festival donations from the school as well as extremely generous donations of festive treats from local people. Cash was also donated, so we were able to include a gift voucher in each hamper as well."
MATES members Nicky and Andy Wilkes produced a Christmas meal for eight local residents unable to celebrate with their family. They sourced, cooked and arranged delivery of these dinners on Christmas Eve, alongside extra treats such as mince pies and Christmas cakes. MATES funds were used for the main meal, while the mince pies and cakes were donated by Martin residents Holly Vince and Laura Steer.
Pauline Mountain in Timberland continues to run Hopelinks, a telephone befriending service offering a friendly chat to anybody feeling lonely or worried.
Lindsey said: "The generosity of people in Martin and Timberland has really come to the fore during the last nine months. It's all down to people pulling together and looking out for each other in these difficult times."
Ruskington Coronavirus Response Group was launched around the first lockdown by Zoe Ireland and she said there are huge numbers of volunteers again: "We are doing pretty much exactly what we did in the first lockdown and volunteers are contacting the known vulnerable people and doing some further leaflet drops for people who may have lost contact details."