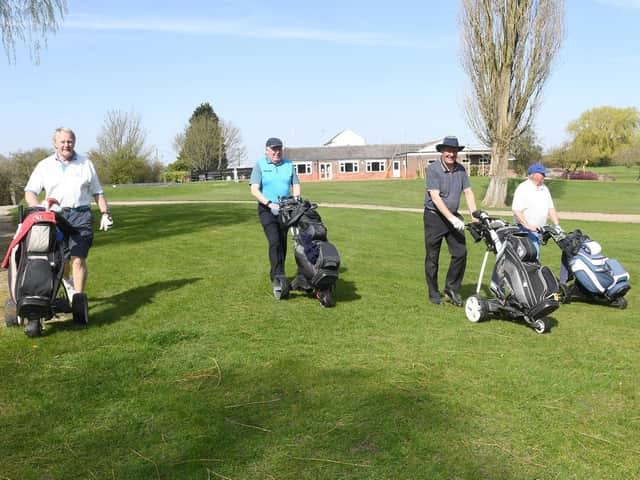 On course at Boston Golf Club. L-R Ed Markham, David Hodgson, Malcolm Hyde (club president) and Ted King.
And with the sun shining on Tuesday and Wednesday, many were able to take full advantage as facilities including tennis courts, golf courses and rowing clubs were given the green light to resume.
Grassroots sports has also been given the greenlight, with training and matches able to start for football and other sports.
The Boston Standard went out and about to capture some of those gratefully returning to their sporting life, visiting Boston Golf Course, Boston Rowing Club, Boston Tennis Court, and Boston West.
Malcolm Hyde, President of Boston Golf Club, was among those on the course on Tuesday.
He said: "Our members have been tremendously supportive of Boston Golf Club during the past twelve months. Their subscriptions were due last April, at about the time of the first lockdown, and for a time the club was very concerned about the financial implications this would have.
"We need not have worried as the members gave their support to the club without question. This week it was heartening to welcome them back after the latest lockdown.
"The look of anticipation on their faces as they approached the first tee told the whole story. As expected, nearly every tee time was booked on the first day and we were rewarded with excellent golfing weather all week.
Boston Rowing Club back in training
"The atmosphere was filled with the usual banter that has been sadly missing and the sense of relief was palpable as friendships that had been on hold were finally able to be rekindled.
"The members are eagerly awaiting April 12th when our newly refurbished terrace area will be able to open to serve drinks and food and where they'll mull over their round together.
The whole experience of being able to meet and play together has been sorely missed and the reopening will I am sure lift everyone's spirits."
Boston Tennis Club has re -open its outdoor courts for players to book and regular tennis coaching is permitted.
Putting at Boston Golf Course
The club is running a coaching programme i throughout the Easter Holidays with all of the regular groups for all ages shown and bookable online as well as individual lessons, Easter Camps for juniors and online bookable courts.
Ready for the off at Boston West