CORONAVIRUS: Photographer creates a striking image of hope and thanks in Boston skyline
A photographer has created an iconic image of hope and thanks to all health workers in the sky above Boston.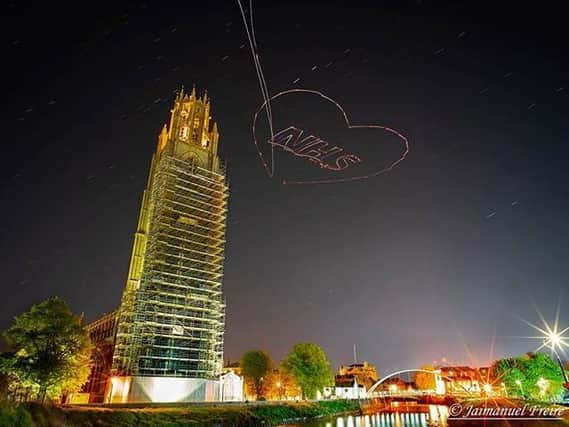 Using the Stump as a backdrop, Jaimanuel Freire used his drone and a technique called light painting to create the stunning photograph of a heart with the letters NHS inside it.
The qualified drone pilot said the idea for the image had been around for a while. He said: "I decided to do this as a thank you to all who are involved in these Pandemic times, especially all the NHS staff who are making a huge effort to contain the disease."
Jaimanuel is a freelance photographer who is originally from Portugal. He need to get permissions and authorisations to fly the drone, and needed two flights in total; one to create the heart, the other the letters. He then combined the two images.
He said the drone was flying at a height of 90 metres without going over the Stump tower or roofs.
"I would like to thank all the people who supported me in this project," he said. He also warned others not to do this type of flying if he didn't have all the conditions provided under Civil Aviation Authority rules.
Jaimanuel's work can be found on his Mr James Photographer Facebook page at https://www.facebook.com/JaimanuelPhography/?ref=page_internal