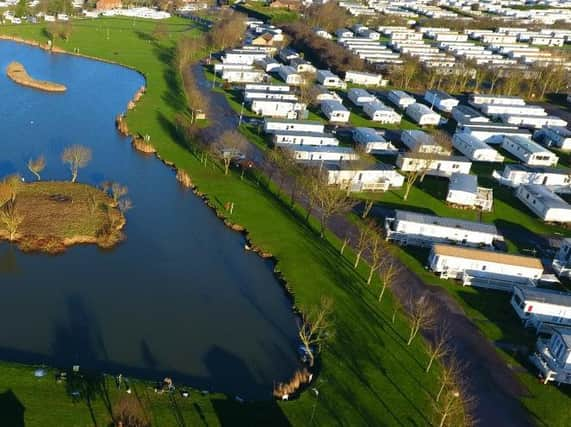 With eight weeks of the season gone already, the authority is being urged to extend the season until the new year - a move that could help businesses who are losing thousands of pounds in revenue already.
Mayor Coun Mark Dannatt said he contacted ELDC after a debate at the zoom meeting of Skegness Town Council - and now Skegness Water Leisure Park has applied for a season after being unable to attract sales at one of its sites.
Coun Dannatt said: "Following the zoom meeting, I emailed East Lindsey District Council asking for an extension of the season into the new year so we can all say good riddance to 2020.
"I don't expect anything to happen until the Prime Minister allows caravan sites, accommodation and leisure attractions to re-open as you can't extend what is closed.
"But if we lose 12 weeks, another 12 weeks at the end of the year will even things out for everyone."
Some caravan parks in the area already have an extended season from March 1 to January 5.
Skegness Water Leisure Park in Wall's Lane, Ingoldmells, has 700 plots under previous permissions allowing an extended season and is applying to ELDC to open its South Fields site for 12 more weeks.
In its application to be discussed this week, the park said South Fields attracted no sales in 2019 because most buyers wanted a longer season. Predicting a "massive recession" as a result of the impact of the Covid-19, it said allowing South Fields to expand it's season would enable them to "survive the coming storm".
Leader of ELDC Coun Craig Leyland said: "The Council is talking to businesses across the district to find out how it may help them cope with the impact of the virus, especially in the leisure, tourism and hospitality sectors, which have been especially hard hit.
"A key initiative that is being explored is the potential to relax planning controls to 'extend the season' on the coast. If and when the lock down is relaxed to allow holiday parks to re-open, this would enable operators to stay open for longer. That would allow us to cater for the coast's traditional family holiday market. It would also help cater for the growing demand from those who want to experience our fantastic natural and wild coast during the late Autumn and possibly into winter.
"We understand that some of those who would like to visit might be concerned about social distancing. We have therefore begun a dialogue with some of our larger attractions to better understand how public bodies can help people to visit our resorts safely. This work ties in with our planning to re-open public facilities. We will extend these discussions as the government's timetable for removing the lock down becomes clearer.
"Away from the coast we are examining how open spaces in our market towns might be used to create attractive and safe outdoor areas for relaxation and entertainment when this sort of activity is permitted.
"We are also thinking more long term about the steps we can take to support existing businesses through measures such as "buying local" schemes, helping our business tenants as rent falls due and promoting events to ensure our towns remain vibrant and vital places.
"Finally, we are committed to marketing our resorts and our market towns. The message is that we will be 'open for business'. The steps we are taking will ensure that this is more than just a slogan."