Crack down on coronavirus rule breaches as West Yorkshire police leader brands exercise guidance 'woolly'
The Home Secretary has said the police will be tougher on enforcing coronavirus rules as force leaders in Yorkshire said officers could not "work miracles" with "woolly" guidance.
Watch more of our videos on Shots!
and live on Freeview channel 276
Visit Shots! now
At a Downing Street briefing tonight, Priti Patel said a minority of people were "clearly breaching coronavirus regulation" and that already 45,000 fines had been issued across the UK.
But she insisted multiple times that the rules in place in the third national lockdown were clear and tough enough to drive down infection rates.
And while highlighting the number of breaches and speaking about police coming down harder, she simultaneously said: "The British public are absolutely sensible, they are conscientious, they understand the stay at home message."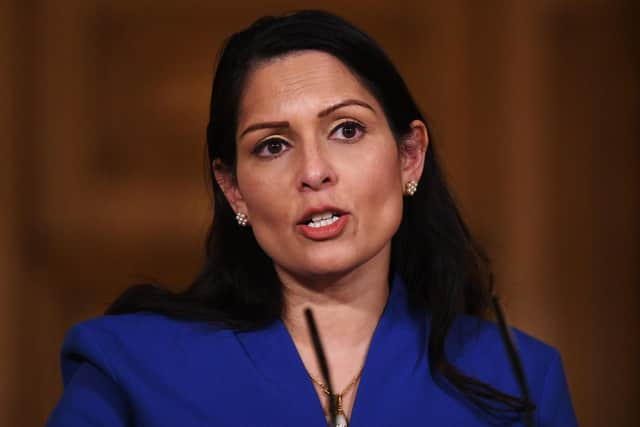 She said: "My message today to anyone refusing to do the right thing is simple: if you do not play your part our selfless police officers – who are out there risking their own lives every day to keep us safe – they will enforce the regulations.
"And I will back them to do so, to protect our NHS and to save lives."
There has been confusion over the enforcement of the rules, highlighted by cases including two women who were incorrectly fined after driving five miles to meet for a walk in Derbyshire, and the Prime Minister going for a bike ride seven miles from Downing Street.
But Martin Hewitt, National Police Chiefs' Council Chairman, told the Downing Street briefing that a "stubborn number of people have refused to abide by the regulations" and that "10 months on, the rules are clear".
He said that since October, officers have been encouraged to move to handing out fines more quickly, having previously focussed on giving advice.
He said: "It's important for me to be really clear at this critical time, we will have more officers out on dedicated patrols to take action against the small few who are letting us all down."
But he admitted defining exactly how far people can travel away from their home for exercise would be "challenging".
Earlier, Chairman of the West Yorkshire Police Federation Brian Booth said: "The guidance is that you should be local in your own community near where you live but people are far exceeding that.
"Officers have no power in law to deal with it, so it is a bit of a nonsense really.
"The guidance is people's moral judgement, should they be doing it, but with regard to policing it – it's impossible."
Asked whether the Government should bring in a legal definition of what constitutes 'local', Mr Booth said: "If you want a more hard line enforcement approach that is what you've got to do.
"You can't just leave it woolly like you've done and expect officers to work miracles. It's just setting the officer up for a fall.
"If you say to people you are going to limit their civil liberties, and you are going to place them in lockdown, state it very clearly. Because it's not fair on the public either.
"Don't expect officers to work a miracle and pull law out of their back pocket. We've got to have a sound foundation of law to apply properly. If not, the public starts to mistrust us."
Ms Patel stressed the role of personal responsibility in sticking to the rules, and said: "Everyone has to be conscientious in their actions."
And although she said the rules were "clear", research from Dr Daisy Fancourt, an Associate Professor of Psychobiology and Epidemiology at University College London, showed just one in four people felt they fully understood the rules, which she said was "worse than it was last spring".
Dr Fancourt told Sky News that her research tracking people's compliance with the rules from last March up to 24 hours ago showed people were "really managing to follow these rules" and that people were sticking to the rules just as much as they were in May last year.
But she said that while three in four people had a "rough sense and feel they generally understand the rules", she added that the result suggested "we need to still have clearer messaging, fewer caveats, and fewer nuances".
She said around 96 per cent of people were "broadly following the rules" but she told Sky News: "I think the other question here is are we right to be blaming individuals for the fact that cases are still so high? Is it just an issue to do with compliance? Certainly many people could be improving their compliance behaviours even more but I think this starts to call into question whether the issue here might be around how strict the rules themselves are for managing this virus."