Dominic Cummings defends trip to Durham in Downing Street press conference
Boris Johnson's senior aide Dominic Cummings has defended his decision to drive to County Durham as he said he said he feared for his childcare situation and his family's safety.
Watch more of our videos on Shots! 
and live on Freeview channel 276
Visit Shots! now
In a press conference in the Downing Street garden this afternoon, Mr Cummings: "The truth is that I had argued for lockdown, I did not oppose it but these stories had created a very bad atmosphere around my home, I was subjected to threats of violence, people came to my house shouting threats, there were posts on social media encouraging attacks."
Mr Cummings said he was worried that "this situation would get worse" and "I was worried about the possibility of leaving my wife and child at home all day and often into the night while I worked in Number 10."
"I thought the best thing to do in all the circumstances was to drive to an isolated cottage on my father's farm."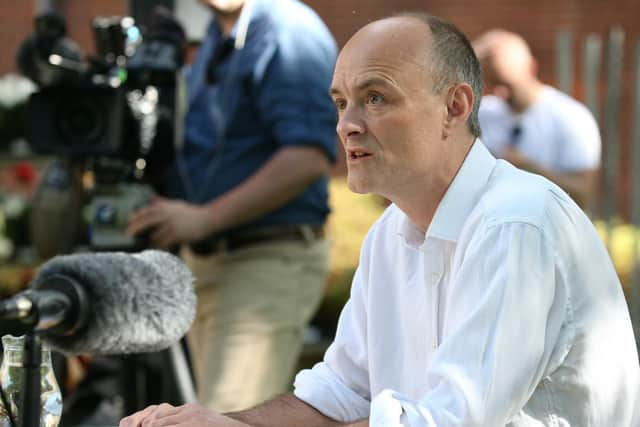 Mr Cummings said the Prime Minister had asked him to publicly give his account and he acknowledged he should have spoken earlier.
"I know that millions of people in this country have been suffering, thousands have died, many are angry about what they have seen in the media about my actions," he said.
"I want to clear up the confusions and misunderstandings where I can.
"In retrospect, I should have made this statement earlier."
Mr Cummings said: "My tentative conclusion on the Friday evening was this: if we were both unable to look after our child then my sister or nieces can look after him."
He added: "But, I thought, if I do not develop symptoms and there's a testing regime in place at work I could return to work if I tested negative. In that situation I could leave my wife and child behind in a safe place – safe in the form of support from family for shopping and emergencies, safe in the sense of being away from our home which had become a target and also safe for everybody else because they were completely isolated on a farm and could not infect anybody."
He said the nearest other homes are "roughly half a mile away".
Mr Cummings said he had not asked the Prime Minister about his decision and admitted that "arguably this was a mistake".
He said: "I did not ask the Prime Minister about this decision. He was ill himself and he had huge problems to deal with. Every day I have to exercise my judgement about things like this and decide what to discuss with him.
"I thought that I would speak to him when the situation clarified over the coming days, including whether I had symptoms and whether there were tests available.
"Arguably this was a mistake and I understand that some will say that I should have spoken to the Prime Minister before deciding what to do."
Mr Cummings said he was told at around midnight on March 26 by the Prime Minister that he had tested positive for Covid-19.
After discussing the national emergency arrangements, Mr Cummings said he went to Number 10 the following day for a series of meetings.
He received a call from his wife, who was looking after their four-year-old child, who said she felt badly ill, had vomited and felt like she might pass out.
That led to Mr Cummings' decision to swiftly leave No 10 – actions that were caught on camera in Downing Street.
After a couple of hours his wife felt better and Mr Cummings returned to Downing Street.
But he said that evening he discussed the situation with his wife – including the fact that many in Number 10 had developed coronavirus symptoms.
He was worried that if both he and his wife fell ill there was "nobody in London we could reasonably ask to look after our child and expose themselves to Covid".
He added: "I don't regret what I did. I think reasonable people may well disagree about how I thought about what to do in the circumstances, but I think what I did was actually reasonable in these circumstances.
"The rules made clear that if you are dealing with small children that can be exceptional circumstances.
"And I think that the situation that I was in was exceptional circumstances and the way that I dealt with it was the least risk to everybody concerned if my wife and I had both been unable to look after our four-year-old."
Mr Cummings said he was not seeking to introduce any element of discretion to the rules.
He said: "To me, the rules are there, they talk about what to do with, they talk about exceptional circumstances and small children.
"I was trying to weigh up on that Friday night, conflicting things between what happens if we're both ill, who's going to look after him, what's the safest way of doing that? Is there a way in which I might be able to go back to work the following week if the whole testing system changes?"
Mr Cummings acknowledged that it "would have been better" to make Monday's statement at an earlier stage.
Asked about the concerns of scientists that his behaviour could make it harder for other people to follow the rules and therefore contain the spread of the disease, he said: "I think that they're right to be worried that the coverage of the last couple of days could encourage people to behave in certain ways but, with great respect to them, they made those comments without knowing what had actually happened.
"And actually that's one of the reasons why I think now, it would have been better to have made this statement earlier. But as it as, well, I didn't. And it would have been better to have done it earlier for sure. And that would have also I think stopped some of those guys being themselves confused by what they read."
Asked if he felt he owed an apology to the public, he said: "I don't think I'm so different, and I don't think there's one rule for me and one rule for other people.
"As I said, I knew what the guidance once. It talks about exceptional circumstances with small children, and I think that in all the circumstances I behaved reasonably and legally as I said."
Asked how he could countenance staying on and not resigning, he said: "I think there is understandable anger but a lot of that anger is based on reports in the media that have not been true and it's extremely regrettable."