Addressing the country from Downing Street this evening, Matt Hancock said more than four million people had now been vaccinated against the disease.
"We're currently vaccinating more than double the rate per person per day than any other country in Europe," he said.
And he added: "We're protecting the most vulnerable, we're getting the virus under control."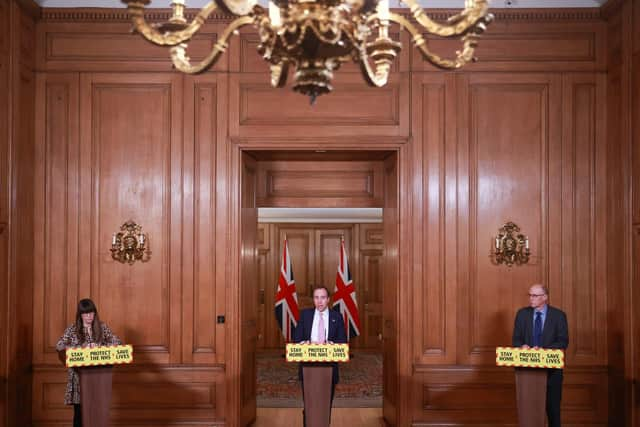 But it came amid high numbers of people remaining in hospital with the disease, and concern over a "catastrophic moral failure" in the distribution of Covid-19 vaccines from the World Health Organisation (WHO).
NHS England's national medical director Professor Stephen Powis told the Downing Street press conference on Monday that around 15,000 people had been admitted to hospitals with coronavirus since Christmas Eve.
And he said it will be "some time" before the Covid-19 vaccination programme begins to reduce pressures on hospitals,
He said: "It is absolutely critical that we continue to stick to those social distancing rules that are in place. That we don't rely yet on vaccines coming to our rescue.
"It will be some time before the effects of the vaccination programme are seen through into reducing pressure on hospitals. We all have a role to play in reducing the risk of transmission."
While the WHO's director general Dr Tedros Adhanom Ghebreyesus called for equitable distribution of the vaccine.
"The world is on the brink of a catastrophic moral failure – and the price of this failure will be paid with lives and livelihoods in the world's poorest countries," he told the WHO's executive board meeting.
Dr Tedros added: "It's right that all governments want to prioritise vaccinating their own health workers and older people first.
"But it's not right that younger, healthier adults in rich countries are vaccinated before health workers and older people in poorer countries.
"There will be enough vaccine for everyone. But, right now, we must work together as one global family to prioritise those most at risk of severe diseases and death, in all countries.
"More than 39 million doses of vaccine have now been administered in at least 49 higher-income countries. Just 25 doses have been given in one lowest-income country. Not 25 million; not 25 thousand; just 25."
Dr Tedros added that a "me first" approach would prolong the pandemic as well as human and economic suffering.
Asked about his comments, Mr Hancock said: "The UK is the world's biggest financial supporter of the global programme to ensure access to vaccines in all countries in the world through organisations like Cepi [Coalition for Epidemic Preparedness Innovations] and Covax so not only have we developed - in partnership with the scientists at Oxford and AstraZeneca - what is currently the most cost effective vaccine that is available, we've also put the most financial support into these international efforts."