Over the last month, Feeding Gainsborough partner members Eudaimonia, Disability Network West Lindsey, Affordable Foods and Bread and Roses have distributed more than 20 tonnes of food and household goods to more than 450 families and 1,300 individuals across West Lindsey.
This has been made possible thanks to donations including £1,500 worth of goods from B&M, fresh fruit and vegetables from Morrisons, a grant of £4,000 from Lincolnshire Community Foundation as well as the volunteers and people working behind the scenes to make it all happen.
A spokesman from Feeding Gainsborough said: "Thank you to everyone contributing towards this effort, you know who you are.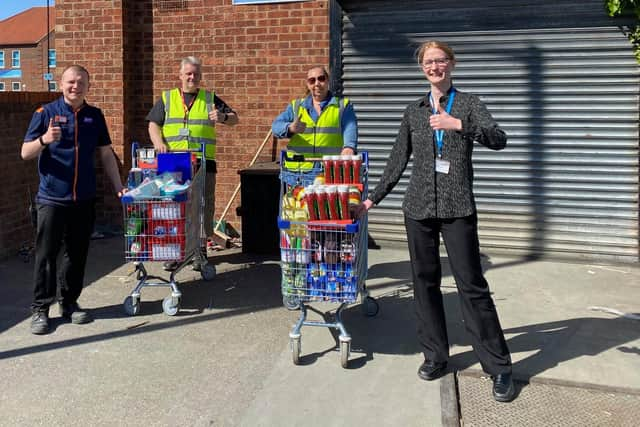 "A big thank you for all the donations we have received big or small, cash, goods and time.
"It all counts and has made it much easier for all.
"Our food parcels have included fresh meats, 12 varieties of fruits, 16 varieties of vegetables, fresh eggs, milk, bread, butter, cheese, crisps, snacks, chocolate, household essentials and much much more and when we can we like to pop a bunch of flowers in as well.
"We have been given frozen business class meals from American Airlines.
"A big thanks to Think2Speak for your support in keeping in contact with those who need to hear a friendly voice and Coun Matthew Boles for your kind contribution from Lincolnshire County Council.
"And thanks to J ulie Musonda, who has spent hours securing accommodation for five homeless people as well as looking after one of Feeding Gainsborough's Food Hubs. She truly is inspirational to us all.
"And to all the many volunteers supporting us at this time, collecting foods, sorting foods, packing food parcels and delivering support packages into the community. Thank you. This, and all your support big and small, are greatly appreciated."
For more information about Feeding Gainsborough log-on to their page at www.facebook.com/FeedingGainsborough.