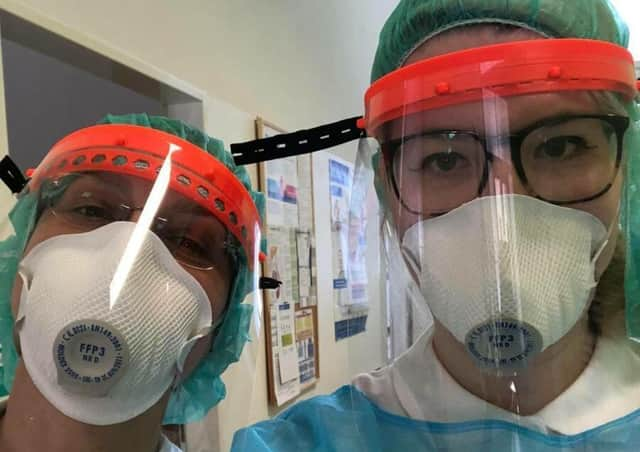 Beautiful Homes Gifts responded to concerns about the supply of personal protective equipment (PPE) to the NHS by repurposing machines normally used to make prototypes for gifts.
Kevin Carthy, who runs the Louth-based firm with his partner Lucy Liles, said: "From what we are hearing from more and more medical staff is that they are not being provided with the essential PPE necessary to do their job safely to fight COVID-19.
"Although we have no official word from the NHS, it seems this is the case all over the UK. We are getting contacted by more and more people every day
"We have repurposed our machines to produce face shields for healthcare workers in Lincolnshire and all over the UK.
"At the minute we are funding the project with money from our business and personal savings.
"Unfortunately, we do not have an infinite supply of money, which is why we need help from the public.
"We have started providing local care homes and any nurses, doctors, paramedics and any other health workers that have requested them from us.
"We have also been in contact with Lincolnshire St Barnabas Hospice to start providing them with as many face masks as we can produce.
"We have notified the NHS COVID-19 UK Team and offered our services to supply them."
The face shield was designed by Czech 3D Printer Company Prusa and has been welcomed as a stop gap until the official NHS PPE arrive.
Team Leader at the at the Wold Care Home in Louth. Leah Towse said: "We would like to thank Kevin and Lucy for providing these face shields, which are in short supply at the moment due to the Coronavirus pandemic.
"I don't think people understand how desperate the situation is in the UK for PPE. Sadly it looks like things are only going to get worse and we need every piece of PPE we can get our hands-on."
District nurse Michelle Daff, who is on the team pesting people for coronavirus, said: "It's great that small businesses are supporting their communities and right now PPE is essential for us to do our job to stop this virus."
Retired Nurse Cath Sweeny, said: "I have been approached to go back to work but would feel much happier about doing so if I could be assured that PPE was being provided to nurses and medical staff."
Beautiful Homes Gifts has started a GoFundMe campaign to raise money to keep producing the face shields and ramp up production. At the minute they can produce around 100 face shields a week but have the potential to print 10 times that if they can raise the funds.