Government's chief scientific advisor warns coronavirus is not under control as Yorkshire highlighted for rising cases
Yorkshire has seen a "significant rise" in positive coronavirus cases, one of the Government's top scientists has warned, as it was admitted that authorities do not have the virus under control.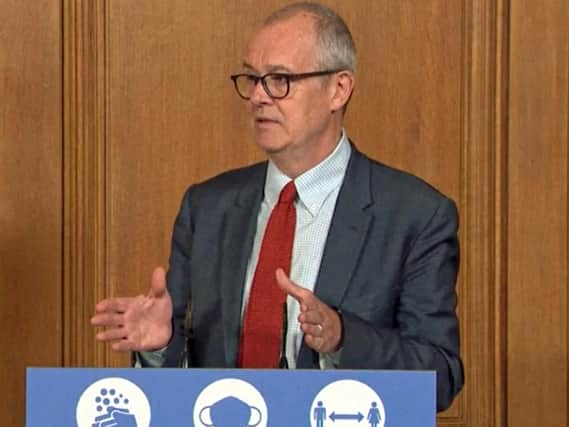 Chief Medical Officer Professor Chris Whitty picked out Yorkshire and the Humber, as well as the North East and North West, as particular areas of concern in a Downing Street press conference this evening.
He said: "This increase is accelerating quite rapidly in some of those areas."
And Chief Scientific Advisor Sir Patrick Vallance added: "It is very clear that rates are still going up.
"And, so, we don't have this under control at the moment."
Asked whether stricter measures would be implemented in the North over winter, where the virus is hitting hard, Boris Johnson said: "We want to stamp out, or bear down, on the virus in such a way to get the R down below one where we need to do that most and that's clearly in the areas that we've identified, and that's why there are the extra restrictions coming on in those areas."
He later confirmed it was a "national threat and a national challenge", and Sir Patrick said the virus was spreading everywhere.
The Prime Minister added: "I have to be clear, that if the evidence requires it, we will not hesitate to take further measures that would, I'm afraid, be more costly than the ones we have put into effect now."
Mr Johnson said: "I know some people will think we should give up and let the virus take its course, despite the huge loss of life that would potentially entail.
"I have to say, I profoundly disagree.
"And I don't think it's what the British people want, I don't think they want to throw in the sponge, they want to fight and defeat this virus and that is what we are going to do."
Data for the North East and Yorkshire NHS region showed there were 471 in hospital with coronavirus as of today, 65 of those were on ventilators.
Nationally, 2,252 people are in hospital according to latest figures published on Monday, 312 of those were on ventilators.
Mr Johnson said the country was "entirely dependent" on the public's collective action in "driving down the virus", when asked by the BBC's Laura Kuenssberg for his "honest assessment" on whether further, nationwide, restrictions were on the way.
Mr Johnson, citing a package of recent measures, restrictions and enforcements – including the so-called rule-of-six limit on socialising – said: "The answer is, I'm afraid, entirely dependent on how effective we are now in collectively driving down the virus. We know we can do it because we did it before, in March and April.
"What we hope is that if people obey the guidance – fulfil the guidance – in the way they can and the way they have in the past, we will get the spread (of the virus) down again.
"The strategy is to do that while keeping the economy open – the vast bulk of the economy open – and keeping young people in education. Those have to be absolutely crucial priorities.
"I'm confident we can do it together if we follow the guidance. But our success will have to be judged in the days and week ahead.
"It is still too early to tell whether that package of measures will be successful."
Sir Patrick added: "Things are definitely heading in the wrong direction."