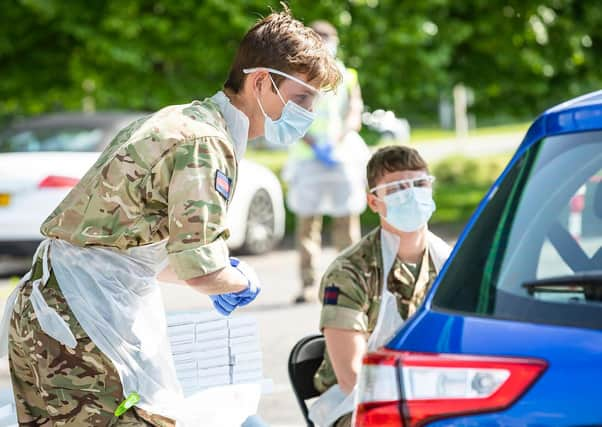 Those without symptoms were also asked to refrain from booking a test "just to check" in a bid to open up spaces.
The government prioritised areas with higher numbers of cases, so those trying to book a test in Lincolnshire have been sent to centres in places such as Leicester and Oldham. .
Lincolnshire County Council's director of public health Professor Derek Ward said it was vital those who showed symptoms of coronavirus to self-isolate.
"If you've got those symptoms, you need a test, there's no question about that," he said.
"Unfortunately, you might have to wait a few days to get a test locally, or where you might be offered the chance of the test but you might have to travel to somewhere.
"Government are prioritising those areas with higher numbers of cases, and giving them more testing capacity.
"It's not that you don't need a test, it's just that, despite our recent increase, we're still comparatively low in terms of the number of people who have got the virus."
Health bosses don't know specifically when or if the changes will revert back in the near future, but pointed to national programmes to increase capacity and that the number of tests available had already increased.
"We offer more tests per thousand people than in places like Germany, Spain or France, even though their numbers are higher.
"From around the beginning of September, we've had to test the capacity to more than a quarter of a million per day, so the capacity is increasing but unfortunately it's just not increasing fast enough to keep up with demand."
Health Secretary Matt Hancock on Wednesday said some of the issues were being created by people "inappropriately" using the system when they don't have any COVID-19 symptoms.
He suggested around 25% of people did not have a reason. Anecdotal stories included people trying to get a test before going on holiday or schools sending whole year groups for tests without reason.
In Lincolnshire, 8,000 tests were carried out in the first week of September said Professor Ward.
If Mr Hancock's figures are reflected in Lincolnshire, that means around 2,000 people were getting tested unnecessarily.
Professor Ward reiterated the figures were anecdotal, but said: "There's probably tens of thousands of tests per day being used by people who don't meet the criteria.
"If we can stop them going, then that's tens of thousands of tests that are going to be available to the people in Lincolnshire and the rest of the country, who genuinely have symptoms — and it's absolutely important everybody recognises that."