Lincolnshire Resilience Forum – working together for our communities
Deputy Chief Constable and Chair of the Lincolnshire Resilience Forum, Jason Harwin, has issued an update on what is being done across the county to support residents during the Covid-19 pandemic.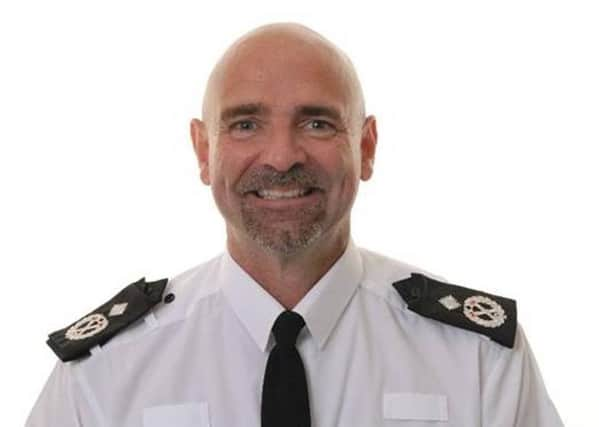 Mr Harwin said: "Last Friday, we all had to find different ways to recognise and remember the 75th anniversary of VE Day.
"Many of us will have family members who fought for this country and I'm pleased to say that the vast majority of people did what was best for the country this year, by staying home and celebrating with their families.
"It has been heart-warming to hear how many of our care homes went the extra yard to mark the occasion by organising 1940s themed activities for their residents and opportunities for them to speak with their families and loved ones through video calls.
"On the following Sunday, the Prime Minister addressed the country and announced some changes to the current lockdown measures.
"Following this, the Lincolnshire Resilience Forum has been looking at what it needs to adapt and change to ensure the county and its services adjust accordingly, after some people have been encouraged to return to work and allowed to travel further for exercise.
"County businesses also continue to try and find ways of reopening so we are planning for increased footfall in our communities.
"The efforts of our residents so far have been exemplary, helping to keep Lincolnshire as one of the least affected areas of the country and the least affected area in the East Midlands.
"It's important we continue with these efforts to avoid a second peak of the virus.
"Please help us share these messages:
• Stay at home as much as possible and wash your hands frequently.
• Work from home if you can. If you are considering returning to work, please make sure it is safe for you to do so.
• If you plan to travel further for exercise, please be mindful that many local amenities may not be open such as businesses, toilets or car parks. It's also important that you consider if social distancing can be maintained where you plan to visit.
• We can all now meet one person from outside of our household in a public outdoor location. Please only meet on a one-to-one basis and maintain a distance of 2 metres apart.
• Continuing to look out for our county's most vulnerable and taking care of them. If people need help and support, the helpline is still available – 01522 782189.
• Please continue to be creative in how you continue to work, live and support others.
Key developments from the LRF
Mr Harwin continued: "Local councils in Lincolnshire have been processing and distributing grants to eligible businesses over the last few weeks.
"As of May 7, 81.6% of grants have been paid - that means payments have been made to 12,393 businesses, to the value of £144.5m.
"Applications will continue to be checked, processed and paid in batches every day.
"The number of payments made by Local Authorities is now published weekly.
"Businesses can still seek support and advice by clicking here, or by calling 01522 782189.
"A new discretionary fund was announced on May 1 which could benefit small and medium sized businesses which didn't qualify for a business grant.
"This has been made available after a national underspend in the business grants which have been awarded.
"Businesses which could be eligible include charities, B&B's and those with significant rent or mortgage costs.
"Further details of this fund will be provided to local authorities in due course.
"A new website has been created which brings together both requests and offers of support across Lincolnshire linking the business community, health and care, education, and voluntary sectors.
"The site also showcases good news stories arising from LRF interventions and we encourage you to please send any other example to [email protected]
"To view the website, click here.
"Pick for Britain is a national initiative which the Lincolnshire Enterprise Partnership is supporting with the local Student Land Army campaign.
"The harvest season starts later in Lincolnshire than in other parts of the country and farmers and employers will soon be uploading their vacancies to the website.
"The Student Land Army campaign was launched to support national food security – targeting students who are on a break from education to help bring in the harvest. The UK is rapidly approaching the peak harvest season and 80,000 seasonal workers are needed.
"The food sector in Greater Lincolnshire employs 56,000 people, produces 25% of the country's vegetables and is nationally important in food security to keep our nation fed. More details are available here.
"Testing essential workers and their families continues to be led by the Department of Health and Social Care.
"The county's main testing site is at the Lincolnshire Showground in Lincoln and a number of mobile sites have been operating within the county, providing people with other options.
"Nationally home testing kits are available and we have been encouraging people to choose these, if it isn't possible for them to visit a testing site.
"A new NHS Coronavirus Status Checker has been launched to help aid the response to the pandemic and people with potential COVID symptoms are being asked to complete this, so that information collected can form part of a core national dataset, optimising modelling speed and accuracy.
"Other similar apps have agreed to work openly with the NHS and align their products and data with this central effort.
"While this is the official checker service, ideal for streamlining this process others (such as JoinZoe or Let's beat COVID) can be used where appropriate. The status checker can be found online here.
"The temporary mortuary facility at the former RAF Woodhall site is now complete and can be brought into use in the coming months, if needed.
"The facility has been a real partnership effort by all involved to get it to this stage and the site and processes needed have been tested during exercises, with much positive feedback.
"Although we all hope it will not be required, we have taken effective action to ensure dignity and respect for individuals can be maintained in the worst case scenarios of our pandemic planning.
"Lincolnshire is similar to other parts of the country in that sadly there have been some deaths from coronavirus in our care homes.
"Our thoughts are with the families and loved ones of those who have passed away at this difficult time.
"From an early stage of the pandemic we have been in constant contact with care homes to support them.
"LCC's infection prevention and control team, together with our partners, have provided quick, effective support when outbreaks are reported so that they are kept under control.
"We are working closely with the NHS to ensure we get people out of hospital and back to an appropriate care setting as quickly as possible, whilst reducing the risk of Covid-19 spreading into those care settings.
"I would like to thank you as Chair of the Lincolnshire Resilience Forum for your continued support and wider dissemination of details about our collective activities with communities."