Matt Hancock urges public to comply with testing regime while defending Dominic Cummings' Durham trip
Health Secretary Matt Hancock has defended asking the public to self-isolate in the test and trace programme despite the backlash over the actions of the Prime Minister's top aide Dominic Cummings.
Watch more of our videos on Shots! 
and live on Freeview channel 276
Visit Shots! now
Taking the daily briefing in Downing Street today, Mr Hancock said he understood the "anger that some people feel" over Mr Cummings taking a 260-mile journey to Durham - and an excursion to the town of Barnard Castle to test his eyesight - over fears he and his wife would be unable to care for their child should they be struck down with coronavirus.
And after a question from a member of the public he said the Government would look into now cancelling any fines incurred by those in similar circumstances.
Mr Hancock said he would enquire with colleagues and make an announcement at a future daily briefing. He said: "It's a very good question and we do understand the impact and the need for making sure that children get adequate childcare, that is one of the significant concerns that we have had all the way through this."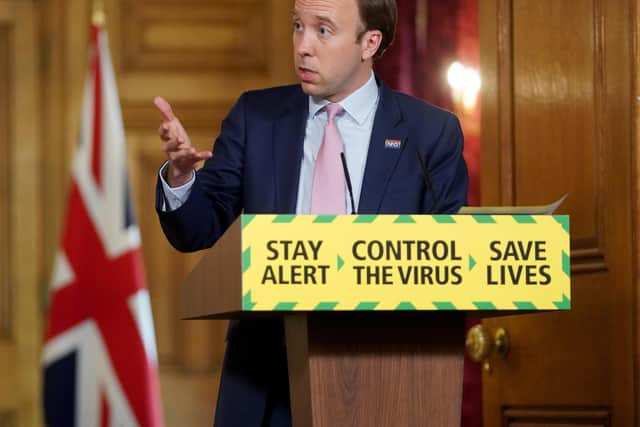 On Mr Cummings' himself, Mr Hancock said: "I regret the anger that some people feel and Mr Cummings himself said that – with hindsight – he should have got all the facts out earlier."
But he said his focus was on the next steps in tackling the crisis.
More than 30 Conservative MPs have now called on Mr Cummings to resign, while some 71 per cent of Britons believe Mr Cummings broke the lockdown and 59 per cent think he should resign, according to a snap poll of 1,160 adults by YouGov after the aide's defence.
Mr Hancock used the press conference to urge members of the public to comply with the testing programme due to launch next week, and he said: "They're not doing it for me, people are doing this for their loved ones.
"If you're phoned up and asked to self-isolate even though you're perfectly healthy because you've been in close contact with somebody who's tested positive, then it's your civic duty to then self-isolate, for yourself, for your community, for your family, and we all need to come together to do this."
However Labour said "the last 48 hours have presented a confused picture" and questions were asked over how the Government could in one breath warn the public to stick to the guidelines while in the next defending Mr Cummings.
Mr Hancock said: "My view is that what he did was within the guidelines.
"I can understand why reasonable people can take a different view, but my judgment, which is the same as the Prime Minister's judgment, is that what Mr Cummings did was within the guidelines.
"After all, the guidelines allow for exceptional circumstances, particularly with regards to childcare and we've stated before that if you're unable to look after a small child, that is an exceptional circumstance."
Writing to Chancellor Rishi Sunak, Shadow Chancellor Anneliese Dodds said: "I am deeply concerned that the last 48 hours have presented a confused picture around what those with suspected Covid-19 should do, and those sharing households with them.
"Your Government must swiftly remedy this by stating unequivocally that those with Covid-19 must self-isolate at home, with the rest of their household.
"However recent developments suggest that clarity around public health messaging may no longer constitute a key government priority."