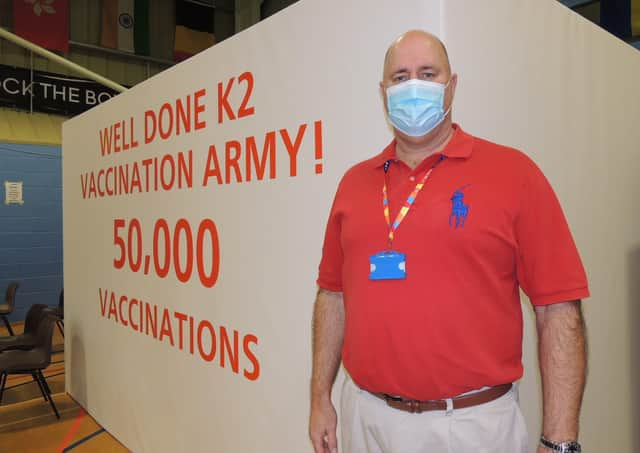 Data on Friday showed that 321,832 of Lincolnshire's estimated 640,000 people aged over 18 have been vaccinated and over 50,000 jabs had been delivered to adults in the Sleaford and Grantham area alone.
Lincolnshire County Council's director of public health Derek Ward said the latest figures were "fantastic" but people must not get complacent, with Europe going into a third lockdown.
"I know you know everybody's sick and tired of it but if we want to avoid an increase in our cases let's not make any mistake here, if everybody just goes out forgets the rules we will see a big increase in our cases."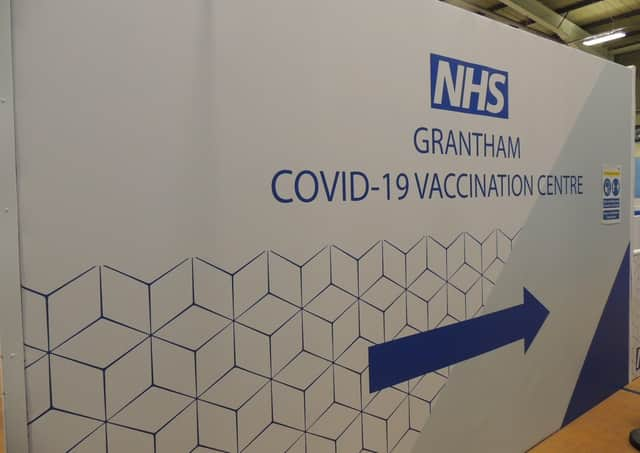 The network of 16 GP surgeries catering for 130,000 patients in the Sleaford and Grantham area have been worked like a well-oiled machine, delivering jabs since mid-December at Grantham's Meres Leisure Centre, as well as roving teams visiting care homes and doing outreach clinics at Sleaford area GP surgeries for those infirm residents unable to reach Grantham.
Grantham GP Adriaan Van Biljon is a medical director for the local Primary Care Network and said they were well ahead of the government target of mid-April to vaccinate over 50s and the clinically vulnerable. "In Grantham and Sleaford we will hit that target by the end of March," he said.
"We can see light at the end of the tunnel now and seeing the impact of the vaccine clinically, with the lockdown. Hospital admissions are going down and patients are getting less ill or asymptomatic and it is helping us to get back to our day jobs in surgeries. Last week there was an outbreak in a local care home that we had vaccinated and the residents had no symptoms at all - no-one rushed to hospital - even a 100-year-old woman had covid without symptoms."
The concerns raised in Europe about blood clots forming in people who had received the Oxford/Astra Zeneca vaccine, which has since been discounted, had caused some apprehensive patients to ask questions, but very little drop-off in take-up of the jabs, with uptake still much higher than expected (well over 90 per cent).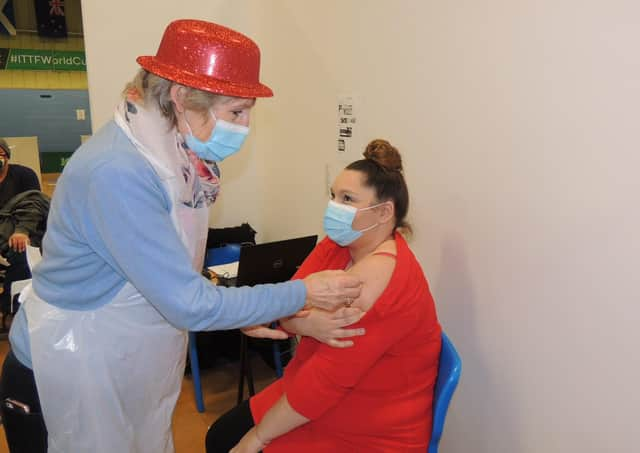 Dr Van Biljon said he was very confident in its safety: "We have had no increase in reports of these bloodclot events despite the vaccinations and trends are being monitored by specialists."
He said if anything there had been less blood clot incidents than normal as a result.
The team is using both the Astra Zeneca and Pfizer vaccines.
Dr Van Biljon said they had already started on administering the second, booster doses, visiting care homes and the outreach clinics in Sleaford area.
He said: "People have been very grateful and impressed with the service we are rolling out here. Most are co-operative, friendly and we have been inundated with cakes, cards and sweets."
I would ask people not to try to contact their GPs with specific questions as receptionists are under huge pressure - we will get to you, just make sure your contact details are up to date so we can sort out your appointment."
This has included calling people in at short notice after hours to make sure no vaccine goes to waste, thanks to the dedicated staff amd volunteers getting in touch with patients. He noted that the number of missed appointments had increased slightly as they get down to younger patients. "We work on a weekly delivery of doses and that is always gone within that week," he said.
"We are vaccinating two people every minute - about 10,000 a week. On a good day we are doing up to 1,300 people or more."
There are 30 GP surgery staff and volunteers on each three hour session, three sessions a day. Surgery staff give up their spare time to come and help and some have come out of retirement. Dr Caroline Lawrenson, a retired GP from Long Benington had volunteered to do the injections. Wearing a red hat for Red Nose Day, she said: "I'm loving every minute of it. I live on my own and this is an outing for me, just like it is for the patients. It is famntastic and the team here are brilliant - so slick and smooth. Everyone wants to be here and it is a great atmosphere."
Local patient Tim Smith agreed: "It is very professional and efficient and not at all painful. I wasn't put off by the news stories. Everyone should do it, it is much better than taking the risk without."
Dr Van Biljon also thanked Sleaford and North Hykeham MP Dr Caroline Johnson for her support as a trained doctor, coming in to deliver jabs as well.
Dr Johnson commented: "This has been a year like no other. As we mark the anniversary of the UK's first Covid lockdown my thoughts are with the families of all those who have lost loved ones before their time.
"The pandemic has touched every aspect of our lives and I am grateful for all those who continue to make sacrifices and the incredible work of NHS staff and key workers, who have remained on the frontlines throughout this crisis.
"The success of the vaccination programme across the country means we can look forward to a brighter future and being reunited with friends and families."