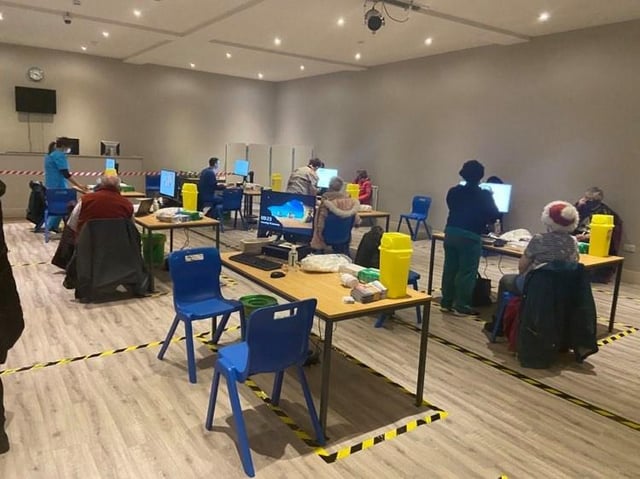 Fifteen centres like this one at Skegness are now operating across the county, offering residents vaccinations closer to home.
The last week has seen a massive rollout of vaccinations across the county, with 15 centres now in operation - including the Storehouse in Skegness and the Franklin Hall in Spilsby - through the GP-led primary care network model.
Today (Monday) Lincolnshire's first large vaccination centre at Boston's Princess Royal Sports Arena (PRSA) goes live for people over 80 who live within a 45-minutes driving distance.
However, readers have told us they cannot understand why their elderly residents have been offered appointments as far away as Norwich and Blackburn.
Following our article featuring the first patient to be vaccinated at the Storehouse in Skegness, many readers took to social media to express their concerns.
Tammy Hemmett commented: "No use having one (vaccination centre) in Skegness - my dad got letter to call and book his appointment and all they can offer him is Norwich - 204 miles round trip for a 83-year-old.
"Allowed to travel now are we?"
Benjamin Peel said: "I've been told directly by two people - both over 80 - I know living in Skegness that they have been contacted with a letter from the NHS offering them vaccinations in Norwich and Blackburn."
The Standard contacted the Clinical Commissioning Group (CGG) who told us letters have begun being sent out to people living within 45 minutes of Lincolnshire's first large vaccination centre at Boston's Princess Royal Sports Arena (PRSA), which goes live today (Monday).
It will deliver between 1,000 and 1,500 vaccinations a day when it is fully operational.
The site, like other large vaccination sites, will initially be vaccinating people in the key priority groups (residents in a care home for older adults and their carers, those aged 70 and over, frontline health and social care workers and the clinically extremely vulnerable), to ensure that meet the targets set by the government.
Initially there had been problems on the national booking website, which did not show Boston as an option, however the problem was quickly resolved.
A spokesman said: "The NHS in Lincolnshire can confirm that attending this large vaccination centre is an option, and people who are over 80 who already have, or wish to wait for an appointment at their local vaccination site, will still be invited by Lincolnshire's NHS as their turn comes.
Vaccination appointments are currently bookable up to seven days in advance. Local Primary Care Networks will be contacting people this week.
Therefore, people over 80 years old, living within a 45 minute drive of Boston who are yet to be vaccinated, now have two options to get their vaccine. They can either:
i) Secure their vaccination by booking a day and time at Boston PRSA up to seven days in advance via the national website or telephone number
ii) They can wait to be called by the NHS and be invited to their local vaccination sites.
A spokesman for the CCG said: "We are delighted to confirm that, as of January 18, Lincolnshire will be amongst the first in the country to open a large vaccination centre, which will be at the Princess Royal Sports Arena, Boston.
"Opening immediately after the large city vaccination centres in the country's main cities, the site at the Princess Royal Sports Arena will initially be the first and only one of its kind across the entire (East and West) Midlands area, meaning we can offer many more local people their appointment sooner.
"We are immensely proud of our team from across Lincolnshire's NHS and partners, including local authority, military, and volunteering organisations to name a few. The next steps are to roll out the programme further through a second large vaccination site and a roving service across the county, and we will continue to keep the public updated as these become available."
Lincolnshire County Council are running a transport hotline for residents struggling to get to appointments.
A spokesman said: "We've operated the hotline for a while now, it's not a new thing specifically for covid/vaccinations, but we want to let people know that they can contact the travel hotline if they'd like advice on how they can get to their vaccination appointment if they don't have their own transport.
"There have been a lot of changes to bus routes across the county since the first lockdown, so it can be difficult for people to know which of their local buses are still running and at what times.
"Our friendly staff on the hotline will have all the latest timetable information and will be able to explain people's transport options, including the on demand CallConnect service, which is still operating and helping to fill the gap where people still need to make essential journeys but their usual bus service has been changed of suspended."
In addition to the new Boston site, vaccination centres already running across the county are:
LOCAL VACCINATION CENTRES
- Louth Community Hospital
- Meres Leisure Centre, Grantham
- Waddington Branch Surgery, South Lincoln
- St Marys Medical Practice, Stamford
- Sidings Medical Practice, Boston
- Rustons Sports and Social Club, Lincoln
- Portland Medical Practice, Lincoln
- The Storehouse, Skegness
- Lincolnshire Showground, Lincoln
- John Coupland Hospital, Gainsborough
- Marisco Medical Practice, Mablethorpe