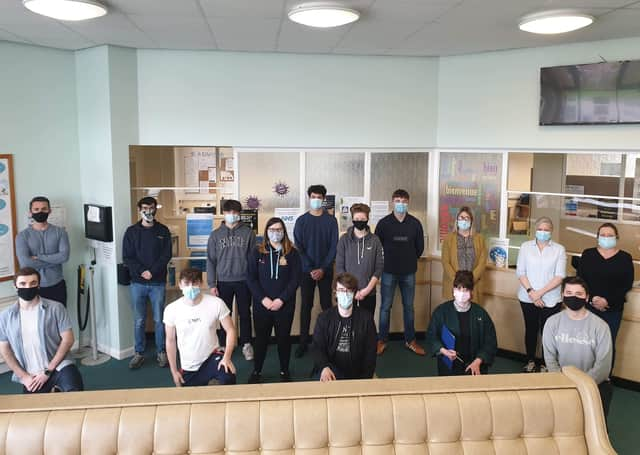 According to NHS Lincolnshire Clinical Commissioning Group, which represents the GP services in the county, appointments to have the vaccination at one of Lincolnshire's large vaccination centres at Boston PRSA or the Lincolnshire Showground can be made on the national booking website www.nhs.uk/covid-vaccination or by calling 119 free of charge between 7am and 11pm, seven days a week.
Alternatively you can have your vaccination at your local vaccination site at Grantham Mere's Leisure Centre or one of the pop up GP clinics. If you would prefer to do this, please wait to be contacted and they will confirm the details of where your appointment will be, or contact your practice/local vaccination site.
Sunday saw the final round of delivering second vaccines to care home patients around Sleaford and Grantham by a team of medical staff from local GP practices.
Nicknamed the 'A Team' they have delivered over 4,000 vaccines over the last few weeks.
Sister Karen Turner, Lead Practice Nurse at Ruskington Medical Practice is part of the team and said said it was a massive milestone to have reached: "In addition to this approximately 5,000 vaccines so far have been administered in the Sleaford area satellite clinics.
"We are about to start on the second round of vaccinations for these clinics.
"At the Meres we have reached over 70,000 patients."
She said the administration team for the satellite clinics have ensured all the patients' records are kept up to date with recording all the data. Giving up a full day to ensure this happens.
Karen added: "The fantastic door men are from RAF Marham and RAF Coningsby have kept the flow of screening steady and safe.
"The satellite clinics have also been supported by many members of 2160 Air Cadets Sleaford Squadron and as their Commanding Officer I could not be prouder of their efforts with wanting to assist in this program.
"I am still overwhelmed by the massive support this vaccination program has received; the organisation needed to make this all happen is mind-blowing and yet the clinics are run effortlessly due to the hard work and determination of the K2 Health team."