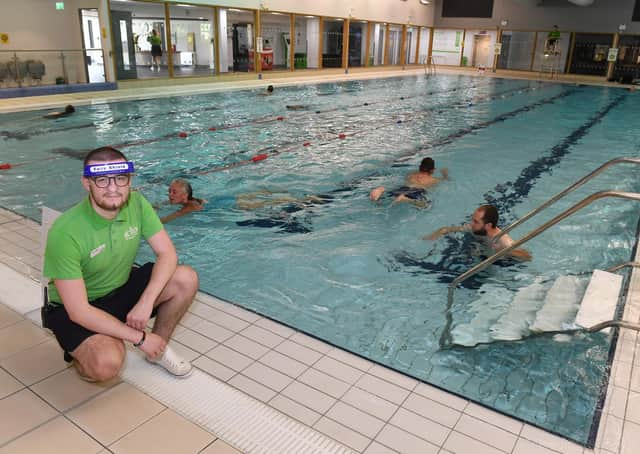 The NCCD will now be open Thursday to Sunday from 10am to 4pm with details of the changes in exhibitions on the website.
The roof gallery is now closed until the refurbishments are completed in 2021, but the shop and cafe were open for business with staff all geared up in visors.
Meanwhile, Better Gym on East Road reopened with less equipment indoors to ensure social distancing and some fitness classes relocated to halls or the open air.
Swim customers turned up for their first dip after lockdown was lifted and were requested to arrive at Sleaford Leisure Centre 'beach ready' with their costume on under their clothes to reduce pressure on change areas.
Chris Ord, Partnership Manager at Better, which runs the facilities for NKDC, said: "Things will look a little different, there will be no walk-ups and all visits must be pre-booked."
Across town, Friday saw the new law come into force making face coverings for customers in shops mandatory.
Lee Taylor of Pop In Bargains in the Riverside Precinct said most customers had been compliant while those not wearing masks for medical reasons had explained on entering.
He said: "A lot have complained they are uncomfortable. I stay behind a screen but put a mask on when on the shop floor.
"I had one customer who thought it was only the rule for food stores and this escalated slightly because he was unhappy that I wasn't wearing one behind the screen, so he walked out."
Mr Taylor had expected more people would not follow the rule, but said: "We can only allow four people in the shop at a time anyway."
Marie Provost at Wise Girls ladieswear said the first couple of days people had been a bit wary about coming into shops but are now getting used to the masks.
"Everyone has been wearing one today (Monday) - we have had quite a busy day and sold quite a few of our masks too," she said.
"The ladies seem more confident and safer - I certainly do. I wear one when customers come in and then I can help them better."