Speculation over tougher Yorkshire coronavirus restrictions as Matt Hancock admits 'there is a challenge with testing'
A senior Yorkshire MP has dubbed the lack of availability of coronavirus tests as not "just chaotic, it is dangerous" as there were suggestions tougher restrictions could be placed on parts of the region as cases spiked.
Watch more of our videos on Shots! 
and live on Freeview channel 276
Visit Shots! now
Speaking in the House of Commons today Labour's Yvette Cooper said constituents of hers, who work in the NHS, were not able to access tests and demanded answers from the Health Secretary over why the Government had not been prepared.
The Normanton, Pontefract, and Casteleford MP said: "The Government knew there would be a huge increase in demand for testing when the schools went back and when it was encouraging people to go back to work yet since mid-July. Testing capacity has only gone up by 10 per cent, but the number of cases has gone up by 400 per cent."
She added that because her constituents had been unable to get tests after trying since Friday they were not in the test and trace system, "so there's no follow up to prevent other people getting the virus as well".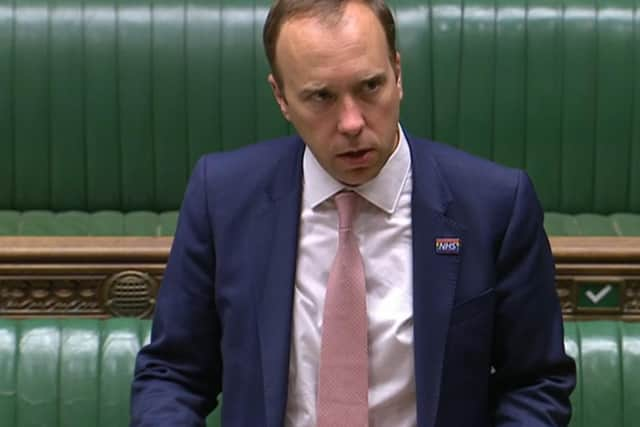 While Conservative MP for Colne Valley Jason McCartney suggested new measures could be imposed on areas in West Yorkshire in coming days.
He said: "With speculation about new local restrictions for West Yorkshire, will [Mr Hancock] reassure me he will continue to be driven by the data, but will he also deploy extra testing facilities and capacity? Because entire families in my constituency are unable to go to work or school as they sit at home repeatedly refreshing the testing portal, trying to book a Covid test for family members with symptoms?"
The Health Secretary did not address the issues with booking a test but said: "We have seen case rates go up [in West Yorkshire] and we will be guided by that data and I look forward to talking to him and working with him on that on that basis."
Data released today showed that just 50 per cent of non-complex contacts in Kirklees, which remains under coronavirus restrictions, were being reached, while in Bradford it was only 44 per cent.
"Non-complex" contact tracing is handled by private firms on behalf of the NHS, and includes individuals who may have, for example, just been in contact with friends and family.
"Complex" cases are referred to local public health teams, and these can be those connected to schools, care homes, prisons, or workplaces.
Both Bradford and Kirklees were in the bottom 10 areas for performance in non-complex cases, despite having amongst the highest infection rates.
In the latest seven-day rolling figures up to September 13, Bradford had 505 new cases, up from 447, and an infection rate of 93.6 per 100,000 people, up from 82.8 per 100,000 people.
This was the highest infection rate in Yorkshire despite being the area where the least non-complex cases were being reached.
In Kirklees, there were 311 cases, up from 188, and an infection rate of 70.7 per 100,000 people, up from 42.7 per 100,000 people.
Infection rates and cases also rose in Leeds, Calderdale, Selby, Sheffield, Rotherham, Craven, Scarborough, Wakefield, Hambleton, York, Doncaster, East Riding, Richmondshire, and Hull.
However they dropped in Harrogate, Barnsley, and Ryedale.
Speaking in the Commons Mr Hancock said: "The Test and Trace system works in combination of the national and the local and if you took away the national then you wouldn't have the record testing capacity, but if you took away the local then you wouldn't have the local knowledge and the boots on the ground who can solve problems and find people who need to self-isolate.
"It is the combination of the two that works."
He insisted capacity is "at record levels", and added: "Of course there's a challenge in testing. The central point… is that capacity is at record levels and has increased week-on-week.
"The challenge is that demand has gone up faster. And they say on the other side 'no it's not' but they can't defy the facts.
"And the most important thing for anybody across the country to hear from all their elected representatives is if they are interested in helping this country get through this pandemic is that if you have symptoms, get a test, if you don't have symptoms please do not come forward to get a test unless you're specifically asked.
"That is what colleagues on all sides of the House need to be repeating to their constituents."
But Labour MP for York Central Rachael Maskell said: "We increasingly have a Health Secretary out of control of a virus out of control."
She York was promised a new walk-in centre which had now been pushed back to November despite students arriving in the city this month.
Mr Hancock said: "We of course do have to ensure that the provision of the testing centres is where the virus is most virulent and so, actually, we do have military planners involved in that process and it is a very important process to get right."
It comes as leaders in North Yorkshire said they were reverting to "full emergency mode" following a rise in the number of cases.
North Yorkshire Local Resilience Forum (NYLRF) issued the stark warning after rises in case numbers across the country, particularly in Selby and Harrogate, and in Selby and Craven.
Combined with problems in processing tests and more community transmission, Richard Flinton, North Yorkshire County Council chief executive and chair of NYLRF, said: "The threat of the virus is a real and present danger."
He said: "We are seeing community transmission of the virus now and a worrying rise is cases in a number of areas. We know how quickly infection rates can change and we are calling on the whole county to act now with us in response."
He called for residents to go "above and beyond" the measures required nationally, as moves to restrict visitors to care homes were prepared in Selby and Scarborough.
Police checks will also be stepped up to enforce the new rule of six, where no more than six people can meet in a group.
While Director of Public Health for North Yorkshire, Dr Lincoln Sargeant, urged people to not mix with those outside their household or support bubble, and persist in trying to get a test if they have symptoms, even if one was not immediately available.
He said: ""There are significant limitations with laboratory capacity nationally, as demand for tests increases. We know that Government is working to address this situation but, in the meantime, it means that fewer test appointments are available and test results are taking longer to be processed.
"This issue is a national one and outside of our control. We have escalated our concerns nationally and we are targeting our local testing facilities towards the communities and people in greatest need".