Take a walk through the Wolds and beyond
As lockdown rules are gradually lifting, there's never been a better time to get out into the fresh air and get some exercise.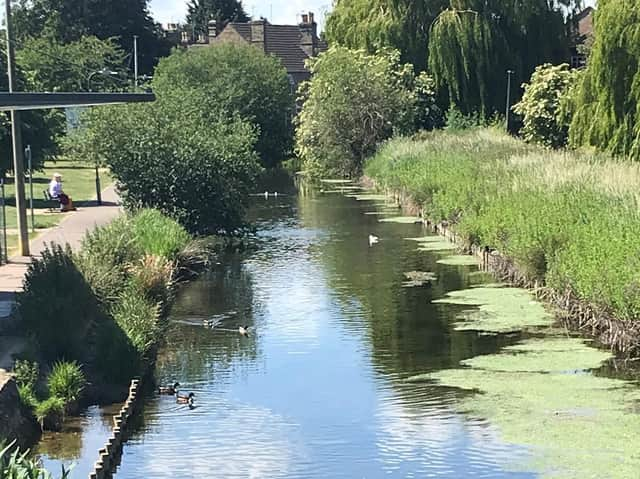 The River Slea, looking towards Cogglesford Mill.
We've spoken to experts at the Boston Ramblers, Love Lincolnshire Wolds, North Kesteven District Council, Visit Lincoln and Heart of Lincs to find out some of the best walks in your local area.
However, although as of today (Monday 29) the government's 'stay at home' rule has been lifted, guidelines still urge people to stay local wherever possible, so please exercise responsibly according to government guidelines.
The Wolds looking over Fulletby. Credit: Andy Tryer
Gateway Walks - A circular walk of 6.5 miles (10.5 km) from the historic town of Louth to Tathwell, Raithby and back.
This is an enjoyable circular walk from Louth to Tathwell and Raithby. The route crosses fields and follows grass tracks and quiet lanes to explore these small hamlets. You can enjoy stunning views towards Stenigot Mast on a clear day.
There are plenty of car parks throughout the town of Louth, and there are some roadside walking and a crossing over the Louth bypass. Most footpaths are over arable land with numerous stiles, which can be muddy and tricky for some dogs so take care on the route and can be muddy.
Louth to Grimboldby and back - A gentle 11.5 miles cycle ride around the villages to the east of Louth – an ideal way to re-introduce yourself to cycling.
The terrain is all on country roads and takes in Keddingham, Alvingham and North and South Cockerington.
Belchford - To get the best views of the Wolds, try this circular walk of 4.5 miles (7 km) from Belchford which starts at The Bluebell Inn in Belchford, and goes to the quaint hilltop village of Fulletby.
Following part of the Viking Way, you can walk through an old meadow and on a clear day enjoy distant views of Lincoln Cathedral.
Absorb the heritage, scenery and wildlife in the heart of the Lincolnshire Wolds. The paths can be muddy, so stout shoes or boots are recommended. There are some stiles and slopes on the walk.
Bag Enderby - Walk in the footsteps of Lord Tennyson with these two circular walks of two (3.2km) and five (8km) miles through the countryside surrounding Bag Enderby and Somersby.
Starting from Bag Enderby, the walks explore different aspects of the Wolds landscape, with both passing through Somersby, Tennyson's birthplace and home for 28 years.
The terrain is a mixture of footpaths, bridleways and quiet lanes, and may be muddy in places, with stiles on the two mile route.
Parking is available on the grass in front of Bag Enderby church.
Binbrook - A circular walk of seven miles (11 km) from Binbrook, this route promises a variety of terrains and scenery, from open farmland to a tree lined avenue.
Much of this walk follows a tributary of Waithe Beck to one of its rising springs near the small hamlet of Thorpe le Vale, with views across the Wolds and towards the former RAF Binbrook airfield.
The walk is mainly on paths and tracks, with some roadside walking, gentle slopes and one stile. Some paths may be muddy, so adequate shoes or boots are recommended.
The Spires and Steeples trail - starting from Lincoln Cathedral and finishing at St Denys' Church, Sleaford, this 26-mile trail brings together the rich history, heritage and local stories of the area. It has many beautiful artworks, churches, interesting landscapes and picturesque skies.
To stay closer to home, the shorter version is also 13 miles from Metheringham to Sleaford, passing through villages including Blankney, Scopwick, Digby, Dorrington and Ruskington.
Sleaford Riverside and Arts Trail - for those who want a less vigorous walk, or to learn more about the fascinating town's history,
The trail will allow you to discover many points of interest about Sleaford's historic riverside, following a circular route along a section of the River Slea with Navigation House and Cogglesford Watermill as its start and finish. Once in town, you can follow the map to discover the town's history, including the origins of some of the town's pre-Victorian elements.
Water Rail Way - The 33 miles (54km) Water Rail Way route follows the River Witham from Lincoln Cathedral to Boston, but to stay closer to home, the route can be done in reverse, starting at St Botolph's Church, known as 'The Stump, and following the nine-mile, mostly off-road route through Anton's Gowt, Langrick Bridge and Kirkstead to the village of Bardney where there is a heritage centre and bike hire.
The route is fairly flat throughout with open fenland landscapes, with long views and expansive skies, and is ideal for cycling and walking.
Wyberton - a proposed walk from Wyberton of about 3.75miles (6km), starting at Wyberton Church and heading along past Wyberton park and left towards Gowting Cross before heading back down around Tytton Hall and back towards the church.
The walk is mainly on unsurfaced public footpaths, quiet country lanes and urban streets with pavements.
There is parking at Wyberton Church.
Coastal Country Park - Sandilands to Chapel St Leonards via Anderby Creek and the North Sea Observatory.
The 6.3 miles (10km) route contains beaches, nature reserves, walks and so much more, with stunning coastal and inland views.
Most of the land is privately owned and dogs must be kept under control, but can be let off-lead on the beaches if not in a dog restriction zone.
Gibralter Point National Nature Reserve - Boasting unspoilt coastline and a huge variety of wildlife, this national nature reserve, owned by Lincolnshire Wildlife Trust, lets you get back to nature while getting some exercise.
Take a stroll around the stunning beach and there are several species of bird to be viewed through the reserves dedicated bird observatory.
Most paths around the reserve are accessible for wheelchairs, pushchairs and mobility scooters, with three paths - one accessible for all, a cycle and footpath, and dogs must be kept on leads.