Thousands of Lincolnshire care workers 'snubbed' in public sector pay rise row
A new pay rise for public sector workers is an 'unjustifiable snub' to the almost 15,000 frontline care workers in Lincolnshire who have been left out, a leading think tank has said.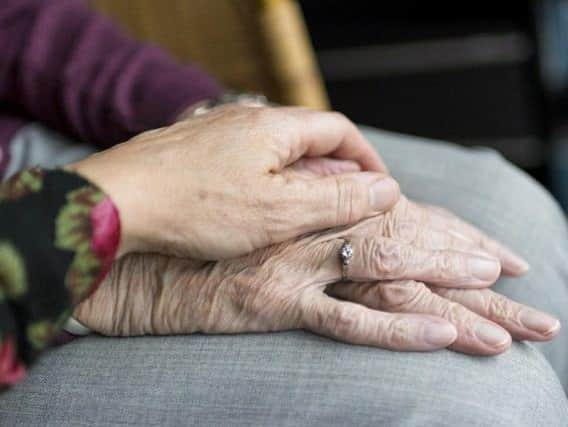 Unions and charities have called for the Government to address low pay in the care industry, after it announced other public sector workers including GPs, teachers and police officers would receive an above-inflation pay rise of up to 3.1 per cent.
Figures from charity Skills for Care show there were 13,500 people employed in a direct care role in Lincolnshire's social care sector in 2018-19.
But none of them will benefit from the pay deal announced by Chancellor Rishi Sunak on July 21 who praised the 'vital contribution' public sector workers had made during the coronavirus crisis.
The Institute for Public Policy Research (IPPR) said it was an 'unjustifiable snub' to leave carers out of the deal, alongside healthcare workers such as nurses, midwives and paramedics.
Chris Thomas, IPPR senior research fellow, said: "It is unforgivable that after the remarkable bravery of all our healthcare heroes they would not receive fair pay.
"We urge the Government to reconsider their exclusion."
The vast majority of care workers in England – 1.26 million out of the 1.52 million-strong workforce – are employed by private care providers, who are commissioned by councils to look after residents.
While their wages are set by employers, the Government says councils work with providers to 'determine a fair rate of pay based on local market conditions'.
Those employed directly by councils may be in line for a pay rise of 2.7 per cent in a new deal for council staff, although the Local Government Association said negotiations are unlikely to conclude before the end of August.
A recent report by the independent Low Pay Commission found that low wages in the private care sector was linked to funding pressure on councils driving down the rates they pay to providers.
Of Lincolnshire's care workers, 375 were employed by the council while 13,000 worked for private providers.
The average hourly pay in 2018-19 for those employed by the council was £11.99, the equivalent of a full-time salary of £23,100.
Those working for private companies earned an hourly average of £8.19, or £15,700 per year.
The figures cover the period prior to a rise in the minimum wage in April, to £8.72 per hour for 25 and overs.
Christina McAnea, assistant general secretary of public sector union Unison, said the private provider model made delivering a 'much-deserved wage boost' to care workers harder, but not impossible.
She cotninued: "The Government must ensure all care operators pay staff at least the real living wage.
"It's hardly a big step given the Prime Minister wanted this hourly rate for care workers as Mayor of London.
"The move would require more cash for councils buying care, higher rates enshrined in contracts with providers, and checks to ensure employers pass the funds onto staff."
Gender equality charity the Fawcett Society has also called for the Government to prioritise 'decent terms and conditions' in the care sector, after their research found 72 per cent of people in the UK think carers are underpaid.
In Lincolnshire, 85 per cent of carers are women and across England, the figure is 84 per cent.
The Department for Health and Social Care said it was 'immensely grateful to all our social care workers' for their hard work during the coronavirus crisis.
Health Secretary Matt Hancock added he was 'committed to supporting the entire NHS and social care workforce through improved recruitment and retention'.