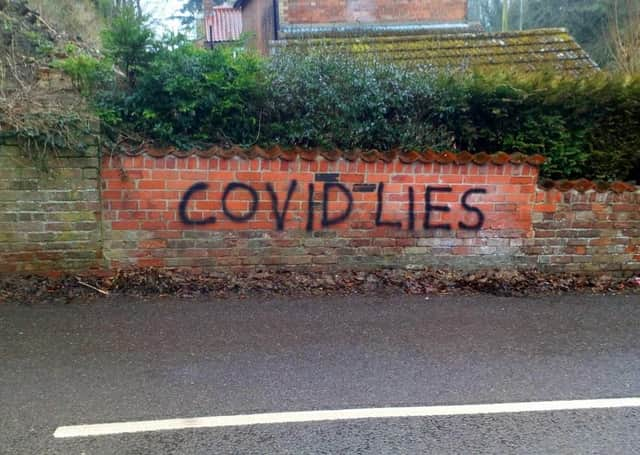 Several areas of the town were targeted with similar graffiti back in November 2020, with concerns subsequently being raised by Louth Town Council.
The most recent incidents are believed to have taken place overnight between March 7-8, in at least three confirmed locations: High Holme Road, Bridge Street, and St Mary's Road. There have been further reports from residents that similar graffiti has appeared elsewhere across the town.
Earlier this week, Wolds Inspector Sarah Constantine told the Leader: "The incidents have taken place in the same area as last time, so we believe they are connected and we would like to appeal for any information in relation to this or any witnesses to the damage.
"There is a cost to the council to remove the graffiti which is unsightly and upsetting to those who have lost loved ones to covid and to all those who have been impacted by the pandemic."
Vanessa Pilny, from 'Litter Free Louth', told the Leader on Monday afternoon that her group had been trying to remove the new graffiti.
She said: "We need to stop this person damaging property and spreading misinformation."
• If you know who is responsible for the graffiti, or if you witnessed it or have CCTV footage, call Lincolnshire Police on 101.
•To find more about Litter Free Louth, visit their Facebook page at: www.facebook.com/groups/litterfreelouth