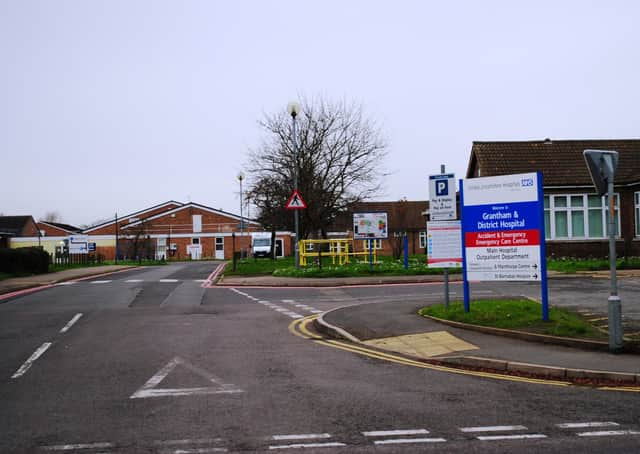 Grantham Hospital EMN-200617-173755001
The Health Scrutiny Committee for Lincolnshire today (Wednesday) questioned ULHT and NHS management on their plans which would mean increasing the number of elective patients at Grantham hospital, including the transfer of chemotherapy, cancer surgery and other surgery from across Lincolnshire.
Coun Carl Macey, chairman of the Health Scrutiny Committee, said: "We share the concerns of many people in Grantham about these changes. They will have a significant impact on patients throughout the county, particularly in terms of travel to other sites and the downgrading of Grantham A&E.
"We have asked for regular updates on plans for the hospital and will be writing to the Secretary of State for Health and Social Care to make him aware of our concerns."
ULHT are recommending the temporary creation of a largely Covid-19 free 'Green site' at Grantham and District Hospital for this next phase of the pandemic.
The urgent care offer at the hospital would also change from an A&E, open 8am to 6.30pm, to a 24/7 walk-in Urgent Treatment Centre and transfer unplanned admissions to other hospitals.
The committee agreed the following proposals:
"We welcome the return of 24/7 walk-in access to care at Grantham, along with the elective and planned treatments, but that we also put on record the committee's concerns that the restoration plan will have a significant impact on patients throughout Lincolnshire, in terms of travel from their local to other sites, and the downgrading of Grantham A&E.
"To seek regular updates on the progress of the restoration plan for ULHT, including the impacts on patients of travelling to different sites.
"To record the committee's view that full public consultation on the Lincolnshire Acute Services Review options should take place as soon as possible and to write to the Right Hon Matt Hancock MP, Secretary of State for Health and Social Care, expressing the committee's concerns, which have been raised today, as an indication of the committee's position for any action in the future."
MPs for Sleaford and Grantham Dr Caroline Johnson and Gareth Davies have appealed to Mr Hancock to look into the matter as well.
At an extra board meeting to agree the prpoosals, ULHT chief executive Andrew Morgan had said the coronavirus pandemic was "arguably the greatest challenge the NHS has faced in its entire history."
"These are real people we are talking about. They are our loved ones, family and friends and as such we have a duty to restore our essential non-Covid services as quickly as possible to reduce the potential harm, minimise distress, minimise fear and minimise anxiety.
"People may fear we're trying to undermine any long-term plans for the NHS in Lincolnshire – we're not, we're responding to a pandemic."
The planned urgent treatment centre will be sited "in an isolated blue area" which would also include ambulatory care.
Some ambulatory care will for same day care patients and early urgent diagnosis care will be included in the UTC blue area.
Mark Brassington, Deputy Chief Executive of the trust, said: "The impact this has had on our hospital sites is significant. All of these things have resulted in us not being able to see as many patients as we need or want to.
"We all want to do more activity and see more patients but we've got to do it safely. If a patient comes in for operation and subsequently contracts COVID there's a likelihood they could die.
"It is imperative if we do it we do it in the safest way possible."
He also said: "Staying as we are, we believe, isn't an option."