User-friendly Covid-19 test and trace guide launched for city
A user-friendly guide to the new 'test and trace' system for Covid-19 infections has been launched for residents in Peterborough and Cambridgeshire.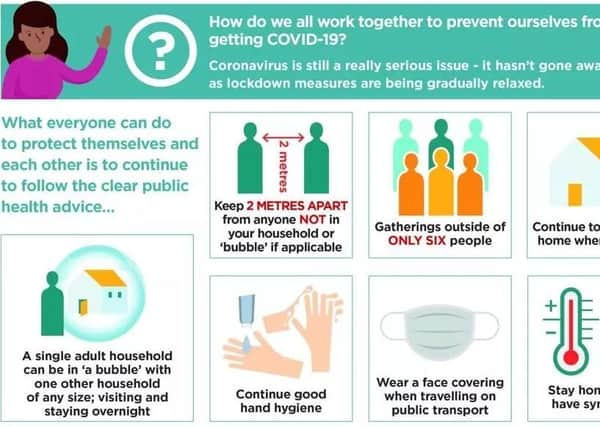 As the number of new infections and deaths decline, the NHS Test and Trace programme has been launched by the Government to track every single case of coronavirus in communities and act quickly upon any local outbreaks.
Cambridgeshire County Council and Peterborough City Council has published the online guide on their website on how the new NHS Test and Trace system will work locally, enabling lockdown measures can be lifted.
A public health spokesman for the city and county authorities explained their guide has two main objectives. To prevent people from getting COVID-19 and to have a clear and robust response to control and contain outbreaks of the virus.
"We want our residents and settings to be clear about what they need to do, where they can get advice and most importantly what plans are in place to protect us all in whatever situation may arise and wherever we may be."
Coun John Holdich, leader of Peterborough City Council, said: "Thanks to the efforts of everyone who has abided by the national lockdown measures so far we are past the peak of the virus and beginning to look at how we can start to return to living our lives through for example the reopening of shops and other services. But to maintain this will require us to behave differently if we are to be safe.
"The Government has made it clear that until there is a cure or a vaccine, NHS Test and Trace is a crucial part of being able to slow the spread of the virus even further and to be able to release us gradually from lockdown.
"It is all our duty to follow the instructions set out by the Government – to self-isolate immediately if you get symptoms and to get a test. If you are contacted by NHS Test and Trace, instructing you to isolate, you must do so.
"We know it might be difficult for people to self-isolate, particularly if they don't have support from friends, family or neighbours. There is a network of services provided through local hubs that support and help those, if required, who are self-isolating."
As information changes or is updated the authorities will use various methods to communicate the new information with residents.
They will also directly take the messages into vulnerable communities who often have more difficulty in receiving or acting upon these messages, such as working with homelessness prevention officers, the Traveller Education Service, faith leaders from different ethnic backgrounds, as well as MPs, County, City and District Councillors and community leaders.
People are being asked to follow a three-step plan:
Step 1 - If you have one or more of the symptoms of coronavirus - a fever, a new continuous cough or a loss of taste or smell – you and the people you live with must immediately self-isolate for seven days and members of your household for 14 days.
Step 2 - Book a test on the NHS website or dial 119. Do not leave home.
Step 3 - If you test positive, NHS Test and Trace will call within 24 hours to give clinical advice and help you establish who you have been in contact with that might have infected. Then a team of national call handlers will contact each of those potentially infected to instruct them to immediately isolate for 14 days and get a test if you develop symptoms.
The public health spokesman said: "Your household doesn't need to self-isolate with you, if you do not have symptoms, but they must take extra care to follow the guidance on social distancing and handwashing both inside and outside the home."
They explained: "We recognise that for many people, being told you should self-isolate at short notice and for up to two weeks will present some issues. For example, how will you get access to food or medicines or other essential supplies, how will you walk your dog, and what might the impact be on childcare arrangements?
For those without a family and friends support network, the authorities have created a network of coordination and response hubs across Cambridgeshire and Peterborough that can offer advice and information, or arrange practical help where needed.
For the Countywide Coordination Hub visit www.cambridgeshire.gov.uk/coronavirus or call 0345 045 5219; Huntingdonshire Hub: www.wearehuntingdonshire.org/ ; Fenland Hub: www.fenland.gov.uk/coronavirus or 01354 654321; Peterborough Hub: www.peterborough.gov.uk/coronavirus or 01733 747474.