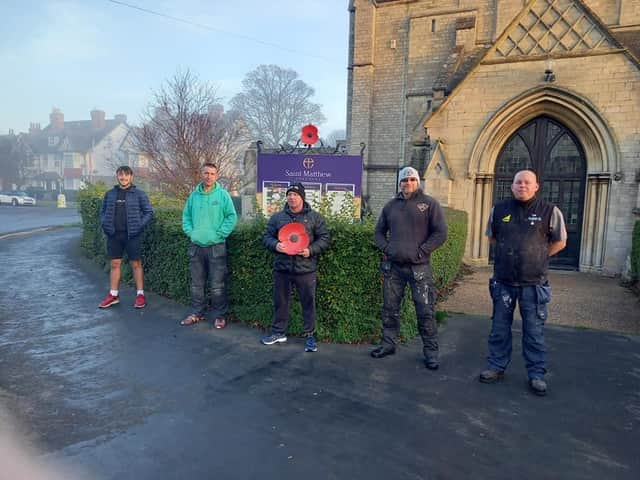 The annual parade and laying of wreaths will not take place at the memorial outside St Matthew's Church on Sunday to prevent crowds gathering and the spread of the virus.
However, volunteers were out at the crack of dawn this morning (Friday) creating a poppy trail which finishes at the memorial - where a special display being put in place tomorrow (Saturday) outside the New Park Club, the headquarters of the Skegness branch of the Royal British Legion.
The idea started when Andrew Derry, owner of GAF Gym and Fitness Centre, got in touch with town councillor Adrian Findley, who is also on the committee of the local Royal British Legion branch.
"It all started with Andrew asking me if it would be OK to put poppies on lampposts," said Coun Findley.
"I got in touch with Lincolnshire County Council and it snowballed from there.
"Some local businessmen got on board with generous donations and we got in touch with the Lincolnshire Royal British Legion to see where we could get hold of some poppies.
"We were told that this year they did not have any lamppost poppies but they did have some lorry poppies and were able to do us a deal because some of them were used.
"So today five of us we were out at 6.30pm and we managed to get them all up in one-and-a-half hours."
As well as Coun Findley, the team included Andrew Derry, Coun Billy Brookes, John Buck and Nigel Walker.
The trail begins near the Lumley Hotel, along Lumley Road, around the Clock Tower along the seafront, down Scarbrough Avenue, around the St Matthew's Church roundabout, finishing at the display which will be outside the New Park Club.
"The Skegness branch of the Royal British Legion would like to thank everyone for helping this to happen," added Coun Findley. Donations were given by Andrew Derry, Coun Adrian Findley, Coun Danny Brookes, Mayor of Skegness Coun Mark Dannatt, chairman of the Skegness Branch of the Royal British Legion Paul Dixon, Russell Taylor and Jane Gray.
Members of the public are asked to adhere to social-distancing guidelines if they go on the poppy trail and are reminded there will be no parade on Remembrance Day.
A service is to be broadcast on the Skegness Group of Churches Facebook page during the morning. A 20-minute service including the Royal British Legion - Skegness Branch, which was pre-recorded on Wednesday, will also be broadcast on their Facebook page and the Skegness Town Council website, finishing in time for the two-minutes silence.
The public are invited to watchthe video at home and then go outside clap for our heroes, in the same way as we did during last lockdown for the NHS and key workers.
For more details on plans for Remembrance Day, also read: