The study, from Imperial College London and Ipsos MORI show the virus is now doubling every seven to eight days, with Yorkshire and the Humber and the North West with the joint highest infection rates, closely followed by the North East.
Scientists estimate the reproduction number, or R value, of coronavirus transmission across the UK is a 1.7.
The R number represents the number of people each Covid-19 positive person goes on to infect.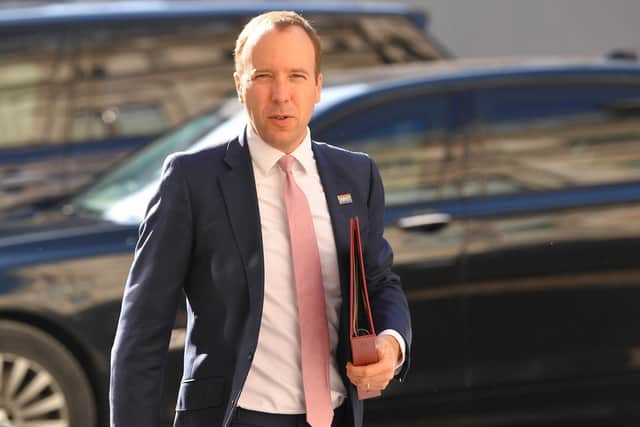 And while the national prevalence of infection in the community was 0.13 per cent, or 13 people per 10,000, in Yorkshire and the Humber and the North West it and 0.17 per cent, followed by 0.16 per cent in the North East.
The prevalence figures are the third set of results from the country's largest study on coronavirus rates of infection, and show that cases are increasing steadily across the country.
And Health Secretary Matt Hancock said it showed the importance of new rules on social gatherings due to come into force on Monday.
He said: "We've seen all across the world how a rise in cases, initially among younger people, leads to hospitalisations and fatalities. The pandemic is not over, and everyone has a role to play to keep the virus at bay and avoid further restrictions.
"It's so important that everyone abides by the law and socialise in groups up to six, make space between you and those outside your household, get a test and self-isolate if you develop symptoms and wash your hands regularly. It is vital you engage with NHS Test and Trace service if contacted to provide details of your close contacts and self-isolate if you are asked to do so."
The report from Imperial College London said: "There has been a marked recent rise in prevalence in the North of England (North West, North East and Yorkshire and The Humber) such that these regions now have the highest prevalence nationally."
The latest findings were for the period of August 22 and September 7, with testing of more than 150,000 volunteers.
It comes as an announcement on whether Leeds, which has seen rising rates, will be placed under harsher restrictions is expected today.
Professor Paul Elliott, director of the programme at Imperial from the School of Public Health, said: "I would say the prevalence is still quite low.
"It's higher than it was in our second round, which was coming into June and July, so it's gone back up.
"It was very high, we had the lockdown, it came down during May, continued to go down into August into really quite low levels.
"Now it's gone back up again.
"I think the really important thing here is that this system was set up as an early warning system. And I think it has picked up the signal early. And that's being fed in to Government."
Steven Riley, professor of infectious disease dynamics at Imperial College London, said: "The current prevalence is also key for the context, that it is much lower now than it was estimated to be at the start of lockdown.
"But it is comparable, so we're estimating it to be a substantially slower rate than was observed at the beginning of lockdown."