Health Secretary Matt Hancock said Liverpool – where 300,000 people have been tested in a pilot scheme – showed how effective the measure can be.
Downing Street was tonight (Thursday) unable to give details of how the scheme would apply for the 23m people who will be in Tier 3 areas.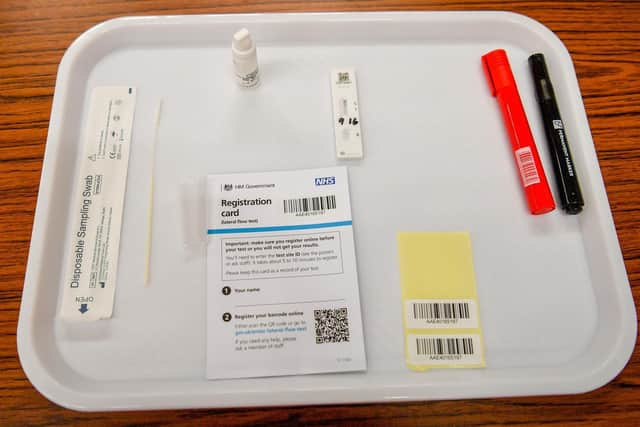 But during tonight's press conference, Boris Johnson signalled that mass community testing was the way out of Tier 3 restrictions, saying it involved "everybody working together to kick Covid out".
West and South Yorkshire, as well as Hull and the East Riding, will go into Tier 3 restrictions from December 2, meaning a ban on households mixing, except in limited circumstances such as in parks.
York and North Yorkshire will go into Tier 2, where restrictions include a ban on households mixing indoors, while pubs and restaurants will only be able to sell alcohol with a "substantial meal".
Only three areas in the country will be in Tier 1, where the rule of six applies indoors and outdoors, people are urged to work from home if they can and pubs are limited to table service.
The Prime Minister said the work in Liverpool "shows what can be achieved" alongside national restrictions, as cases in the Liverpool City Region have reduced by two-thirds.
He said: "This is a success story which we want other parts of the country to replicate, so we'll work with local government, with public health leaders and our fantastic, fantastic armed forces to offer community testing to Tier 3 areas as quickly as possible, opening the way for them to follow Liverpool's example."
Mr Johnson said the allocation of tiers will be reviewed every 14 days from December 16, suggesting mass testing could make households exempt from restrictions.
He continued: "Now testing on this scale is untried, but in due course, if it works, where people test negative it may also be possible for families and communities to be released from certain restrictions even if their home area stays in Tier 3."
"Your tier is not your destiny, every area has the means of escape," the PM added.
Mr Hancock previously told MPs the testing regime had helped Liverpool move from Tier 3 before the lockdown to Tier 2 next week.
The effort was supported by about 2,000 troops who helped establish and staff testing sites.
Mr Hancock said: "It has not been easy and, sadly, many people in Liverpool have lost their lives to Covid, but thanks to people sticking to the rules and to the huge effort of community testing, Liverpool's cases are now low enough for the whole Liverpool city region to go into Tier 2.
"This shows what we can do when we work together."
The Health Secretary told MPs the Government was now launching a "major community testing programme" open to all Tier 3 authorities.
"We will work with local authorities on a plan to get tests where they are needed most and how we can get as many people as possible to come forward and get certainty about their condition," he said.
"The more people who get tested, the quicker a local area can move down through the tiers and get life closer to normal."
He said: "I praise Joe Anderson [the directly elected Mayor of Liverpool], and I also praise other local leaders, such as Ben Houchen in Tees Valley, who is working with us on this, Andy Street [mayor of the West Midlands] and leaders across the west midlands, and the hon. member for Barnsley Central (Dan Jarvis) in South Yorkshire, who we are working with to get a community testing system up and running in places such as Doncaster.
"I want to see the community testing that has been successful in Liverpool rolled out right across the tier 3 areas as much as is possible, and I invite all councils to engage."
And when pushed by Colne Valley Tory MP Jason McCartney on further areas he said: "We are in discussions with Kirklees about what more we can do, including in the area of large-scale community testing and the other considerations necessary to make that happen."
The Prime Minister's official spokesman said details of the plan would be published next week.
"Local authorities that fall into Tier 3 will be able to apply for support from NHS Test and Trace and the armed forces to deliver a six-week, rapid community testing programme," the spokesman said.
"That will include access to a supply of lateral flow tests, support with planning and logistics and funding and communication support."
Around 14,000 military personnel stand ready to help out in the coronavirus effort over the winter.
Personnel including specialist planners, medics and logisticians are ready to assist with the response to the outbreak, the Government said.