Council air quality project expanding
Drivers of school buses and taxi operators are being reminded to stop idling of their vehicles in a bid to boost public health and protect the environment, as North Kesteven District Council extends its 'Be Smart, Stop - Start' clean air project.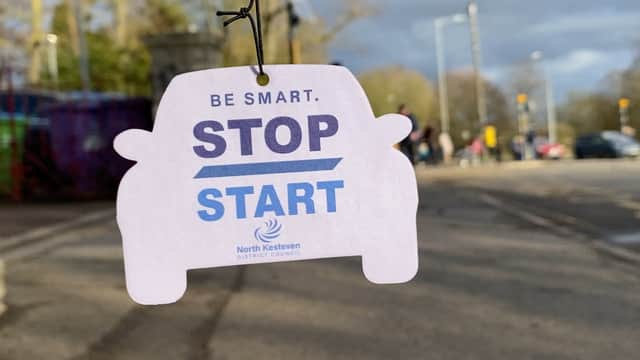 As part of the clean air initiative, the council has written to the district's two school bus contract-holders and 52 taxi and private hire operators, providing information and leaflets asking them to ensure drivers turn off their engines when waiting in their vehicles.
The campaign aims to raise awareness of the dangers of idling on public health and the environment, with children being disproportionately affected by vehicle pollutants such as oxides of nitrogen, carbon dioxide and particulate matter.
Executive member for environment Coun Mark Smith, said: "We're determined to get more people thinking about their idling habit and turning off their engines wherever possible, but especially when near schools.
"There used to be a belief that stopping your car and starting again used more fuel than idling, but this isn't the case with modern vehicles. If you don't need to use the accelerator pedal when starting up then you're better off turning the engine off when waiting – and everyone else will be better off too.
"Everyone can make a difference and times like waiting for level crossings, long queues or picking someone up are perfect times to 'Be Smart, Stop – Start. You'll save money on wasted fuel too."
The council campaign began through work with the William Alvey Primary School in Sleaford to stop parents from idling in their cars at school pick-up times.
Through the project, the council provided the school with learning resources about the impact of cars idling on air quality, along with leaflets and branded air fresheners to serve as a constant reminder in parents' cars. The project attracted national attention earlier in the year.
North Kesteven District Council plans to roll out this work to other schools and communities in a bid to improve air quality for all young people in the district.
This latest initiative accompanies ongoing monitoring at the school, with a special solar-powered 'Zephyr' air quality monitoring station having been installed outside the school in July 2022.
The data produced from this station shows that the air quality is at its best during school holidays, and worst at home-time.
The council says exposure to these emissions can cause wide-ranging health issues. It is especially important not to idle near schools because research shows that exposing children to high levels of air pollution can stunt lung growth, as well as causing behavioural and mental health problems.