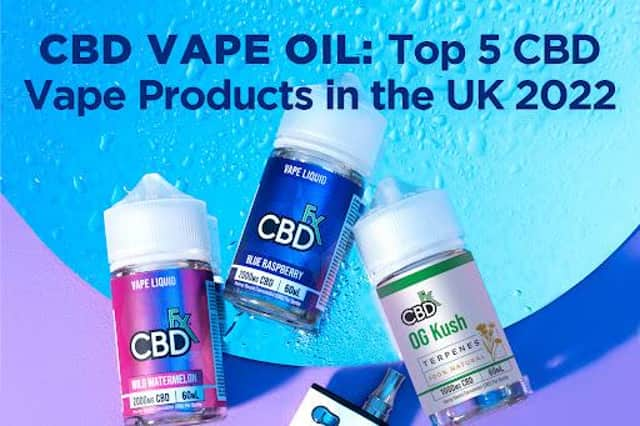 Still, there are countless CBD vape pens and CBD vape juices online — so, how do you know which vape products will give you the best (and safest) CBD experience? We've created a list of the top five CBD vape oil products in the UK to make your shopping experience easier, and to save you the hassle of shuffling through the seemingly endless CBD and hemp websites currently advertising in the UK.
If you're new to CBD vape juice and vape liquid, there's much to uncover in this article. CBD vape pens and vape oils are among the top hemp product choices in the UK, because you can personalise your experience when you vape, and you can even mix flavours if you have a refillable kit that takes CBD vape e-liquid.
Let's look at our picks for top 5 CBD vape liquids in the UK.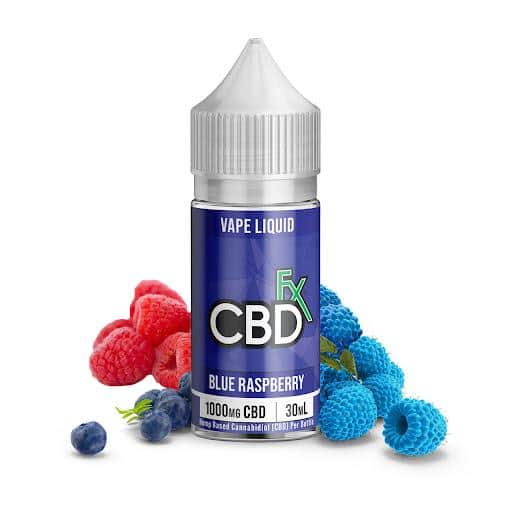 Top 5 CBD Vape Oils in the UK
- Things to love about CBDfx Blue Raspberry CBD Vape Juice:
- Contains 99% pure CBD isolate
- Supercritical CO2 extraction for purity
- Hundreds of positive reviews online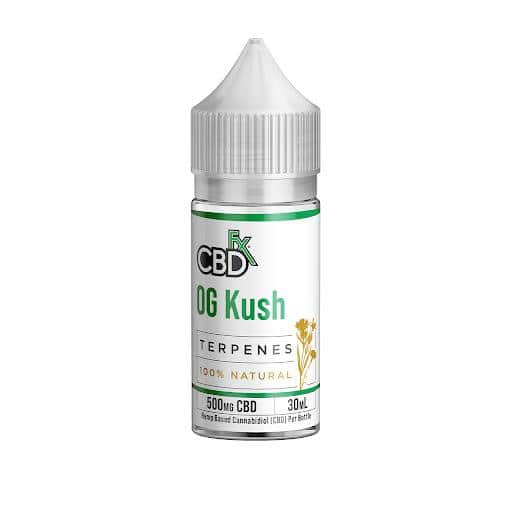 - High-quality, food-grade ingredients
- Available in 500mg CBD, 1000mg CBD, and 2000mg CBD concentrations
CBDfx is a long-standing leader when it comes to producing high-quality CBD products. Their Blue Raspberry CBD Vape Juice is a flavourful formulation, containing up to 2000mg of pure CBD isolate and food-grade ingredients. All of their CBD is organically grown and the CBD oil is extracted from the hemp plant by means of supercritical CO2 extraction, so you don't have to worry about pesticides, solvent residues, or other potentially harmful chemicals. And all of their CBD products come with a third-party lab report, so that you can confirm the potency and purity of your CBD e liquid.
This particular CBD vape oil made our list because it has a sweet, candy-like taste that makes you feel like you just took a bite of your favourite childhood candy. Quality CBD and great taste make CBDfx's Blue Raspberry CBD Vape Juice a winner in our book!
Things to love about CBDfx Wild Watermelon CBD Vape Juice:
- Contains 99% pure CBD isolate
- Supercritical CO2 extraction for purity
- High-quality, food-grade ingredients
- Hundreds of positive reviews online
- Available in 500mg CBD, 1000mg CBD, and 2000mg CBD concentrations
Number two on our Top CBD Vape Oil list is another CBDfx favourite — CBDfx Wild Watermelon CBD Vape Juice. This formulation also comes in concentrations ranging from 500mg CBD to 2000mg CBD, so that you can enjoy this sweet, fruity, refreshing flavour no matter what your experience level with CBD is.
Again, CBDfx has perfected CBD vapes because they only use premium ingredients and steer clear of harmful components, like vitamin e acetate, that aren't uncommon in CBD vape products from lesser brands. So, if you love CBD vape oils with a burst of fruity flavour, this is another oil to put on your list of products to try sooner rather than later!
Things to love about CBDfx OG Kush Terpene CBD Vape Liquid:
- Contains 99% pure CBD isolate
- Supercritical CO2 extraction for purity
- High-quality, food-grade ingredients
- Hundreds of positive reviews online
- Available in 500mg CBD, 1000mg CBD, and 2000mg CBD concentrations
Just when you think CBDfx has taken their vape game as far as it can go, they come up with a family of innovative, terpene-infused CBD vape oils that give you the added benefits of some of the terpenes you'll find in your favourite cannabis strains. The OG Kush CBD Terpene Oil is full of earthy hints of pine and lemon to give you OG Kush enjoyment without the psychoactive effects of THC. This CBD vaping liquid is a must for cannabis lovers looking for a good legal vape puff of a classic strain.
4. Highkind Pineapple Muffins CBD Vape Oil
Things to love about Highkind Pineapple Muffins CBD Vape Oil:
- Comes in a cool, syringe-style packaging for easy refills
- Limited-edition flavour
The Highkind Pineapple Muffins CBD Oil gives you the tangy taste of pineapple, but finishes off with a hint of muffin-like sweetness. Many people love this formulation because it's pure CBD oil accentuated with natural terpenes. Unique and pleasurable flavour, coupled with CBD purity, is the reason Highkind Pineapple Muffin CBD Oil made our list.
5. Harmony CBD Baked Custard E-Liquid
Things to love about Harmony CBD Baked Custard E-Liquid:
- A wide range of CBD concentrations for all experience levels
- Lab-tested CBD content for quality control
- Supercritical CO2 extraction for purity
- Infused with natural terpenes
It's hard to resist anything that tastes like it came from a bakery, so it's no surprise Harmony CBD Baked Custard E-Liquid made our top five UK CBD vaping products list. CBD shoppers love the range of concentrations this liquid provides and beginners, especially, can appreciate how Harmony makes CBD vape servings easy to understand.
For example, the lowest concentration, 30mg CBD, is listed as "very mild," while the highest concentration of 600mg CBD says "very strong." We know it may seem straightforward, but in the CBD world, there are tons of long, confusing product descriptions and information to shuffle through — so this clarity helps make Harmony an accessible brand for UK CBD shoppers.
Understanding CBD Oil Vaping
Most people look to CBD vape products for relaxation, and to relieve tension and stress.[1] CBD e liquids have become a staple in the hemp community because they work fast, and liquid CBD vape products are generally convenient and easy to use — no matter where you are.
CBD vaping liquids can contain different types of CBD oil, so it's important to check the label to see which oil is in your CBD e liquid. Full spectrum CBD, broad spectrum CBD, and CBD isolate are the big three CBD oil types (as well as distillate, which sits somewhere in between broad spectrum CBD and CBD isolate in terms of hemp content). Full spectrum oil contains all of the naturally occurring cannabinoids found in the hemp plant, including CBD and trace amounts of THC. Broad spectrum CBD oil goes through an additional filtration process to remove those trace amounts of THC. CBD isolate contains 99% pure CBD, with all other hemp plant content removed.
It should be mentioned that the legal THC limit in the UK is less than 0.2% THC, while full spectrum oil can contain up to 0.3%. Because of this, you generally won't find real full spectrum CBD in the UK. Any CBD products you might see labeled as "full spectrum CBD" have almost certainly been filtered to remove THC content, which makes them broad spectrum CBD, by definition.
Bioavailability Factors When You Vape CBD Oil
Every CBD product has a rate of bioavailability — the rate at which your body absorbs cannabinoid content. The faster your body absorbs the cannabinoid content, the sooner you can begin to experience the therapeutic effects you're looking for. This process involves your endocannabinoid system[2], which works with cell receptors to distribute the effects of CBD and other cannabinoids to various systems and organs throughout the body. Much like the body's own endocannabinoids, CBD and other plant-based cannabinoids help the body to maintain homeostasis, or balance. This is why CBD has become such a popular wellness product — including CBD for dogs and cats!
CBD vape products have the highest bioavailability, because your body absorbs the CBD content through the lungs. From there, the CBD makes its way into the bloodstream, which most people feel within a few minutes. This is one of the main reasons people choose vaping over other methods of CBD consumption. For instance, CBD gummies and other edibles can take from 30 minutes to two hours for you to feel the effects. The flip side is that the effects of a vape product last roughly two to three hours, whereas CBD edibles can last from six to eight hours. So, it's all about personal preference.
Personal bioavailability factors, like height, weight, metabolism, age, CBD tolerance and other factors, can affect the rate at which you absorb and experience the effects of cannabinoids. In other words, what works for you might have zero impact on your friend who takes the same amount of CBD. So, it's worth it to experiment with different types of CBD products in different CBD combinations and dosages to see what works best for you.
CBD Vape Pens vs. Vape Oil
When you're shopping for CBD vaping products in the UK, you'll notice a few different options, including CBD vape pens and CBD vape oils (also known as e liquid or vape juice).
CBD vape pens are pre-filled with CBD oil and are generally ready to go right out of the box. So, you can toss them in your bag or keep them in your pocket for easy access for vaping throughout the day. Perhaps one of the biggest benefits of CBD vape pens is how discreet they are — you can often take a few puffs without anyone even noticing.
Alternatively, you'll also see CBD vape oil or e-juices. These CBD oils are refills for any non-disposable CBD vape pen or CBD vapouriser kit. Disposable CBD vape pens are an excellent option for anyone wanting to test the CBD vape pen experience. Many experienced CBD users, though, prefer a CBD vape kit, because it allows a more customisable CBD vaping experience.
Both are great options, but if you're looking for something convenient, easy to use, and hassle-free, disposable CBD vape pens are hard to beat.
Shopping for CBD Liquid Vape Products in the UK
When shopping for CBD vape pens, you have to remember that all vape oil products are not created equally. There are a couple of things to look for when shopping for CBD. First, you want to align yourself with a CBD company that produces pure, all-natural hemp plants without the use of chemical-heavy fertilisers that can leave harmful chemicals and toxins in your CBD vape oil.
When you visit a CBD company website, make your way to the "about us" section, and you should be able to learn more about their hemp farming processes and oil extraction procedures. If you can't find any relevant information detailing how they source their hemp, you should consider this a red flag.
Oil Purity: The Importance of CBD Lab Reports
Once you learn a little more about how and where the hemp was sourced, you can look into the third-party lab reports. Any reputable company uses an independent, third-party lab to test their CBD to make certain it is free of solvents, chemicals, toxins, and heavy metals. And honestly, part of the reason CBDfx landed three out of five spots on our list is that they have a stellar reputation where quality, purity, and potency are concerned. There's even a QR code on the product label, so you can quickly scan to see the lab report.
Some of the lesser-known CBD companies are the ones to be most cautious with. These companies can often use cheap hemp farming methods and ingredients that can be harmful to your health. In terms of ingredients, vitamin E acetate is a great example of an ingredient you do NOT want to see in a lab report. You want to avoid vaping vitamin E acetate at all costs, as it's not meant for inhalation and may cause lung injury.
Aside from this, it's extremely helpful to check consumer reviews, so you know where a CBD product stands with other customers who have purchased it in the past.
Hemp Oil Review: Top CBD Vaping Products UK
CBD vape pens, vape kits, and liquids are incredibly popular in the UK. People love the ease of use and the fast-acting results you get from vaping CBD. And sure, there are hundreds (perhaps even thousands) of CBD vape pens and CBD vape oils to choose from online. But as we stated earlier, all CBD companies don't operate with the same standards, so you have to do your homework and know what a company stands for and what kind of farming techniques and ingredients they use.
Once you find a CBD brand you can trust, that's where the fun starts. Vaping with CBD liquid can be relaxing and pleasurable. Explore and experiment with different CBD vape products — pens, CBD oils, e liquids — until you find the one that works best for you. We assembled this list of our favourite CBD oil UK products to help get you started. The rest is up to you. We hope you enjoy your CBD vaping experience!
[1] Ferber, S. G., Namdar, D., Hen-Shoval, D., Eger, G., Koltai, H., Shoval, G., Shbiro, L., & Weller, A. (2020). The "Entourage Effect": Terpenes Coupled with Cannabinoids for the Treatment of Mood Disorders and Anxiety Disorders. Current neuropharmacology, 18(2), 87–96.
[2] Zou, S., & Kumar, U. (2018). Cannabinoid Receptors and the Endocannabinoid System: Signaling and Function in the Central Nervous System. International journal of molecular sciences, 19(3), 833.