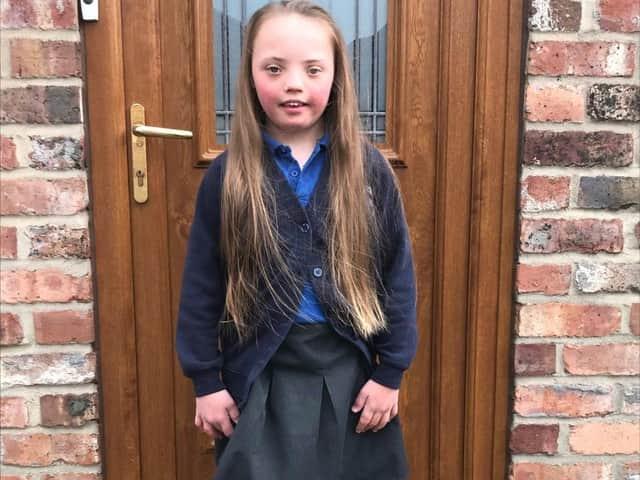 Elsie Linforth, 9, who is cutting her hair for the Little Princess Trust.
Nine-year-old Elsie Linforth, from Caythorpe, has been growing her hair for months in order to cut and donate it to The Little Princess Trust a national charity that creates wigs for a children and young people who have lost their hair due to treatment for cancer or other conditions.
Elsie said that she wanted to cut her hair and donate it to help children who don't have any hair themselves.
Her mum Colette said: "We were watching a programme and it had a little girl that had no hair, so Elsie asked why. I explained she had cancer and the medicine she has made her hair fall out.
Elsie Linforth, 9, who is cutting her hair for the Little Princess Trust.
"We then talked about how she can get a wig made from hair and Elsie said "I need a trim so she can have mine". When I explained they need more than a trim, Elsie said she would have more cut off!
"I then showed her the Little Princess Trust website and she decided to do it as long as she wouldn't be bald at the end!"
By the time she has it cut, Colette said that it is thought that she will be donating a whopping 13 inches of hair.
Her big haircut will take place during half term at the end of May.
The Linforth family are no stranger to fundraising, as Elsie has Down's Syndrome, they have received a lot of support from the Lincolnshire Downs Syndrome Support Group and frequently fundraise for the group.
Elsie doesn't let the fact that she has Down's Syndrome stop her living life to the full, and you can follow her adventures raising awareness on her new Instagram account, run by Colette, by following @elsie_pops_rocks_chromosome21 So far, Elsie has raised an impressive £480 for the Little Princess Trust.
Wendy Tarplee-Morris, the founder of The Little Princess Trust, said: "We are incredibly grateful to Elsie for her fantastic support of our charity.
"This help means we can continue to provide real hair wigs, free of charge, to children and young people at a very difficult time in their lives.
"We know our wigs help to restore the confidence and identity of the young recipients but we can only provide this service thanks to the selfless acts and dedicated fundraising from 'superhairoes' like Elsie."