Freya describes meeting celebrities at Pride of Britain awards
​As her family awaits the results of her latest scan hoping to be cancer-free, a brave Horncastle eight-year-old has described her amazement at receiving a Pride of Britain award.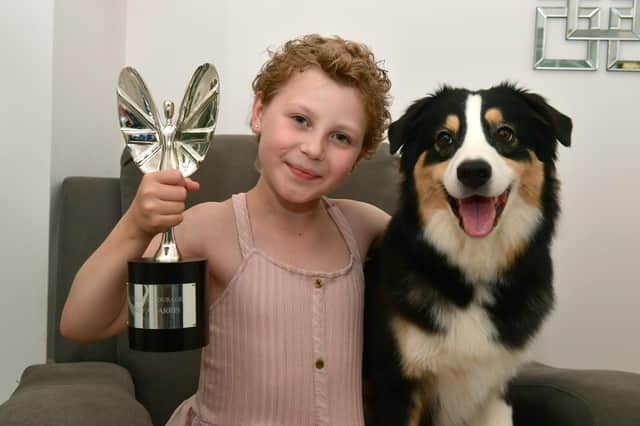 Freya was diagnosed with a Wilms' tumour in 2021, a rare form of kidney cancer that affects around one in 80 children in the UK each year, and she has had chemotherapy, radiotherapy, and surgery including a kidney removal in that time.
"She's been so positive throughout it all," her mum Gemma said, "If she'd been sat feeling sorry for herself then it would have been much harder for all of us but she's been amazing, after her treatment she'd say "That's another step closer to the end" which was amazing."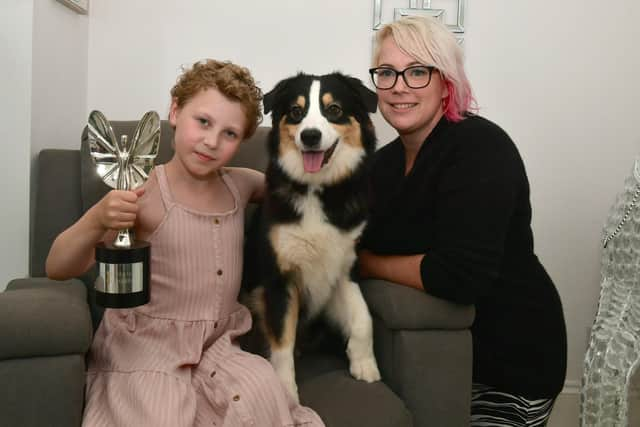 Freya's parents decided to get their daughter a dog last year to encourage her to go for walks after spending so much time in hospital for her treatment.
Exceeding all expectations, Freya decided to take up dog showing with Echo, following a dream she'd had since watching Crufts on TV with her mum.
Despite challenges with her health, and even leaving hospital in the early hours of the morning of Crufts after receiving a transfusion, Freya and Echo won the hearts of the judges and placed second in her category.
Her incredible bravery has now seen her win the Child of Courage award at the 2023 Pride of Britain awards, which is due to be shown tonight (Thursday).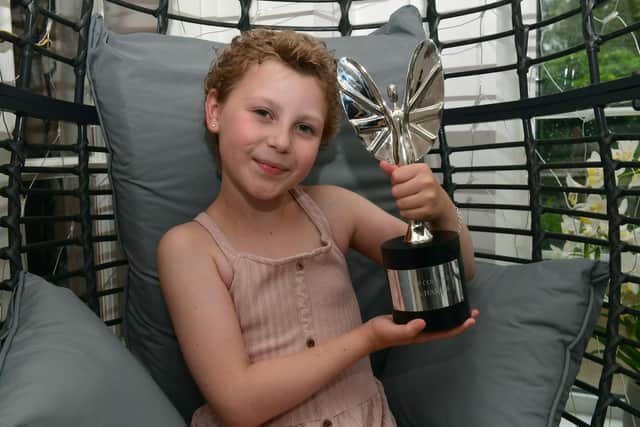 Gemma said the family were initially thinking of turning down the award, with Freya's blessing, as they didn't want to deprive other worthy children of the award – until they were told by the awards team that Freya had actually won!
"We definitely couldn't turn it down then!" Gemma said, "I found out about a month ago and we had to keep it a surprise from Freya.
"When we finally told her last week, she was so shocked she just sat there with her mouth open!"
This has been a whirl-wind of a week for Freya, as she travelled down to London over the weekend to film the awards show, meeting several celebrities in the process, and has appeared on national TV shows including Lorraine, who Freya said was "lovely".
"It was amazing [at the Pride of Britain award]," Freya said, "There were lots of people there taking selfies with me – I loved it."
Freya received her award from TV personality Jordan North and singer Fleur East, wearing her favourite sparkly dress and sparkly shoes.
Freya and her family are now waiting to find out the results of her latest scan to find out if she is cancer-free, as her last scan was inconclusive, and Gemma said her award and the media circus that followed has been a welcome distraction:
"We're just in limbo at this stage and we don't know when we'll get the results so we're just waiting at the moment," she said.
Freya added that she can't wait to go back to school – Kirkby on Bain Primary School – as she has been homeschooled during her cancer treatment.
She has become something of a celebrity in school and all of the staff at pupils at Kirkby on Bain gathered in the hall on Tuesday morning (October 10) to watch her appearance on Lorraine.