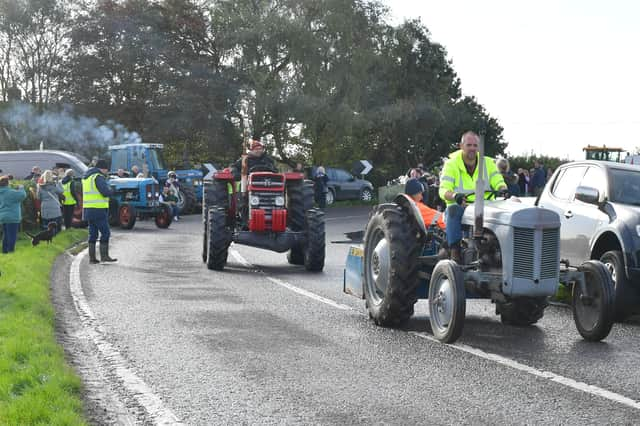 GALLERY: Farmer Brown's Tractor Run raises more than £6,000
​Tractors taking to the roads of Huttoft have seen thousands of pounds raised for one of our county's most vital charities.
Published 1st Nov 2023, 10:23 GMT
The annual Farmer Brown's Tractor Run took place on Sunday (October 29), the brainchild of Sam Brown, and raising money for the Lincolnshire and Nottinghamshire Air Ambulance.
Sam suffered from meningitis as a baby and was left with cerebral palsy and uses a wheelchair full-time, but he doesn't let this stop him, and has organised this fundraising tractor run each year for the past ten years, aside from a pause due to the Covid-19 pandemic.
On Sunday, Sam said there were 73 tractors, of all shapes, sizes, and ages, and two classic Land Rovers taking part, with Storm Babet luckily not impacting on the event and the weather, he said, was perfect in the end!
"The run lasted two and a half hours," he said, "On their return the drivers and visitors ate hot pork or beef baps or beef stew and the raffle was drawn at 2pm - we had lots of incredible prizes."
The final total is still to be counted, but Sam and his parents have hailed the whole day a huge success, and more than £6,000 has been raised for the air ambulance.
Sam's parents have expressed their ride in Sam and what he has achieved:
"He honestly never fails to amaze us," they said, "When he sets his mind to something, he gives it 150 percent to ensure it's a success. And because of his proactive nature, people are more than willing to help him.
"A lesson we can all learn from Sam is, that anything is possible if you believe in yourself. And Sam you have every reason to believe that you are truly amazing!"