'Get symptoms checked' says Charlotte
​A South Reston mum battling breast cancer is urging people to get any unusual symptoms checked and to not delay, as she received the results of her latest scan.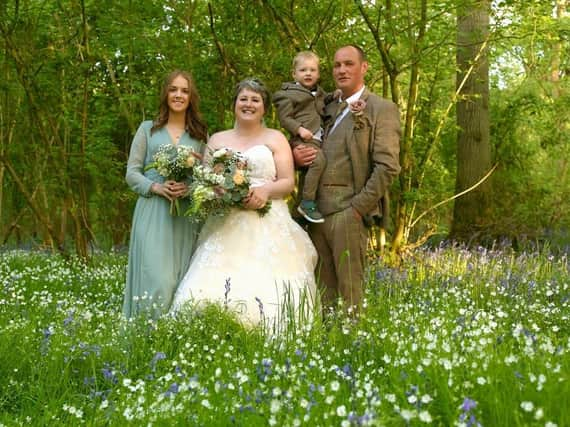 ​Charlotte Graves is currently receiving ongoing maintenance chemotherapy after she was diagnosed with aggressive breast cancer in 2019 when she was 26 weeks pregnant with her son Charlie, who was born six weeks early so she could begin what was to become 16 months of treatment right away.
She was given the all clear in August 2020, but sadly four months later, it was discovered that the cancer had returned and this time she would never be cured, but could be treated as long as she kept responding to treatment.
In December 2021, it was discovered that the treatment had stopped working and she was told sadly that she had months left to live.
She is still receiving chemotherapy to stabilise the cancer and had her latest CT scan on Tuesday (November 14) showed that her tumour is still stable – although her liver function showed some toxicity, which her consultant will monitor but she is not worried at the moment.
In the meantime, Charlotte has shared a passionate appeal to urge anyone who has a troubling new pain or symptom – don't put it off.
"Please always make sure you get yourself checked out," she said, "And do the best you can to avoid any illness which can lead to endless hospital appointments, the many check ups, and the constant fear for your life.
"I know that I am very lucky to be having this extra time with my lovely family and I hope it continues, but it is no fun living every day in fear and always wondering what the new pain you wake up with is, always thinking that today is your last day before things start to get worse.
"So please, always do the right thing, never put anything off, if anything and I mean anything, big or small seems not right, then please go and see your doctor, don't leave it too late."
Charlotte just recently had to spend a week apart from Charlie, now four, as he had caught the chicken pox and as she is at high risk of shingles, had to isolate from him while he went to live with her mum and step-dad.
"It's really hard as even though we have always known these situations will occur, it just doesn't make it easy being separated from each other at all," she said, "He's my life, my little best mate, so to be apart is just awful.
"We had lots of video calls which was good as well as upsetting, especially when he was telling me that he missed me, but we always let each other know just how much we loved each other, as did his dad Paul."
The chemotherapy is seeing more bone pain for Charlotte lately, but she said she is still able to get out walking and riding her e-bike, and she is keeping herself going.
"It's so important not to give up," she said, "I feel luckier than most as I am still able to carry on the best that I can at the minute. I've been making sure that I meet up with friends more regular at the minute too now that Charlie is at school, and we do have some time away coming up, we are taking Charlie on the Polar Express and then going into Centre Parcs at Whinfell for a few days with family."