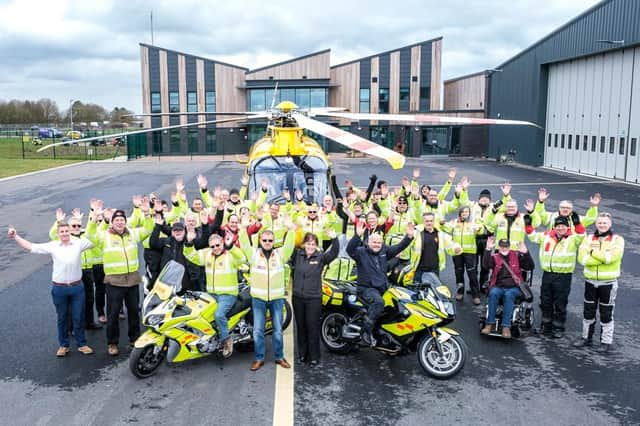 ​​Lincs & Notts Air Ambulance (LNAA) wished Lincolnshire Emergency Blood Bikes Service (LEBBS) a happy tenth birthday on Friday, March 3, and to mark the occasion more than 30 'blood bikers' descended on its Headquarters opposite RAF Waddington.
It was a special moment, as blood bikers from across the county came together to meet the crew and have a tour of the helicopter to celebrate the special relationship between the two charities
Established in 2013, LEBBS provides an emergency delivery service for the NHS, transporting blood products and other urgent medical items between hospitals, with a coverage area of nearly 2,700 square miles and a population of approximately 1.1 million people.
In April 2013, operations initially covered Boston and Grantham Hospitals, but within six months, the service was extended to include Lincoln County Hospital, and then Scunthorpe, Grimsby and Goole Hospitals in 2016.
LEEBS's delivery range also includes, but is not limited to, Hull Royal Infirmary and to the regional NHS Blood and Transplant Centre in Barnsley.
Since September 2017, the charity has delivered blood products daily to LNAA, enabling doctors and paramedics to carry out life-saving blood transfusions at the scene of serious incidents, and in 2022, 148 units of blood were used to treat patients.
LNAA Senior Clinical Fellow, Dr Alan Horan, said: "Blood products are a key component of the high- quality pre-hospital care that the LNAA HEMS (Helicopter Emergency Medical Services) team delivers when required, without the assistance of LEBBS this wouldn't be possible."
There are more than 100 enthusiastic bikers who generously give their time to LEBBS.
One such volunteer, Anne Skelcher, said of the anniversary celebrations: "This is a large county, and we all tend to work in our own areas.
"This is the biggest gathering of blood bikers we have ever seen, and the turn out today shows how much we all value our special relationship with the Lincs & Notts Air Ambulance.
"We are all bikers and know only too well the need for LNAA to be able to have the right equipment to be able to treat critically injured patients who are in need of emergency care. By transporting blood daily to their base, we give the doctors and paramedics the ability to save lives."
LNAA crews are on call 24 hours of the day, 365 days of the year with their highly skilled doctors, paramedics and pilots helping people across Lincolnshire and Nottinghamshire involved in life-threatening incidents.
LNAA receives no regular direct funding from the Government, and needs to raise £8 million this year to deliver its life-saving service every hour of the day.
For more details on how to support this vital work, visit www.ambucopter.org.uk