Health leaders outline benefits of joining in 'Stoptober'
Next month health leaders in Lincolnshire are encouraging smokers to take part in the 28-day stop smoking challenge, Stoptober.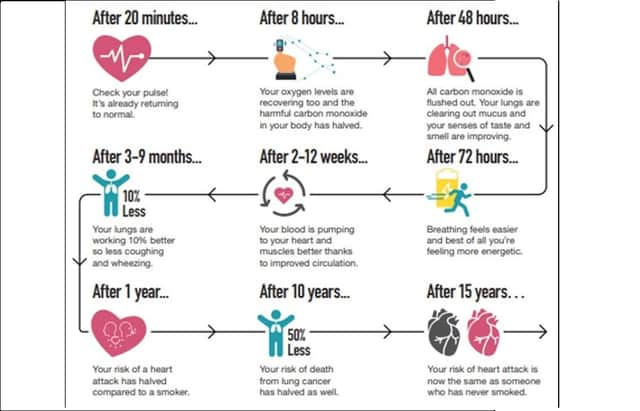 Research shows that if you stop smoking for 28 days then you are five times more likely to stop smoking for good, according to NHS Lincolnshire Integrated Care Service.
As part of Smokefree Lincolnshire, patients across the county can easily access stop smoking help through newly established NHS Tobacco Dependency Services (available for inpatients and pregnant women), in addition to the support provided (for all Lincolnshire residents) through the county council's commissioned stop smoking services One You Lincolnshire.
The health service insists a smokefree life is possible and there has never been a better time to try quitting than right now.
Dr James Howarth, GP said: "Smoking is one of the biggest causes of death and illness in the UK. Every year around 76,000 people in the UK die from smoking, with many more living with debilitating smoking-related illnesses.
"Smoking increases your risk of developing more than 50 serious health conditions. Some may be fatal, and others can cause irreversible long-term damage to your health. Stopping smoking is one of the best things you can do to improve your physical and mental health and wellbeing for you and your family."
To get involved and find out more information simply visit thestoptober.co.uk
According to NHS Lincolnshire ICB, the positive effects of stopping can be realised as early as 20 minutes after your last cigarette, and the ongoing long-term benefits can be seen as follows:
It will not only have the obvious health benefits, but you will also feel positive effects to your finances.
As an example of someone that smokes 20 cigarettes a day, the cost savings from quitting are approximately:
(Savings based on the average price for a packet of 20 cigarettes)
Pregnant women and mental health inpatients can currently benefit from NHS Tobacco Dependency Services (TDS). This support was launched in January 2023, and sees patients identified as smokers at time of booking or admission automatically referred to the relevant service; QUIT team (Mental Health services) and STAAR team (Maternity services).
As part of these services, specialist Tobacco Dependency Advisors (TDAs) will:
- provide personalised treatment plans to support you
- meet with you regularly to discuss progress
- provide behavioural support
- provide free stop smoking aid; including Nicotine Replacement Therapy (NRT) such as nicotine gum, patches, lozenges, and inhalators.
Work to extend the services to all acute hospital inpatients and high-risk mental health outpatients is in development. The NHS Tobacco Dependency teams are currently working on a policy to procure and enable the use of e-cigarettes as a future additional method to help smokers quit in Maternity, and Acute.
In recent years, e-cigarettes (also known as vapes or e-cigs) have become a very popular stop smoking aid in the UK. While they are considered less harmful than cigarettes, the NHS only support the use of these as an aid to help smokers aged over 18 to quit for good. You should aim to eventually stop vaping too. The healthiest option is not to smoke or vape; and if you don't smoke, don't start vaping.
Additionally, support is available through the county council's stop smoking service provided by One You Lincolnshire. This service provides free NRT including E-cigarettes, and behavioural support through weekly 1-to-1 or group sessions that are flexible around your availability (including evenings).
The programme is designed to last 12 weeks and available for all smokers aged over the age of 12 years old.
For information on all available support in your local area please visit: www.nhs.uk/better-health/quit-smoking/find-your-local-stop-smoking-service/
In addition to the above, you can download the NHS Quit Smoking app through the App Store (Apple) and Play Store (Android) for more help and advice on how to quit smoking.
Remember; when you stop smoking, good things start to happen. It's never too late to stop!