Help turn Louth pink ​this month
​Help is needed to turn Louth pink this month to raise much-needed funds for a vital charity.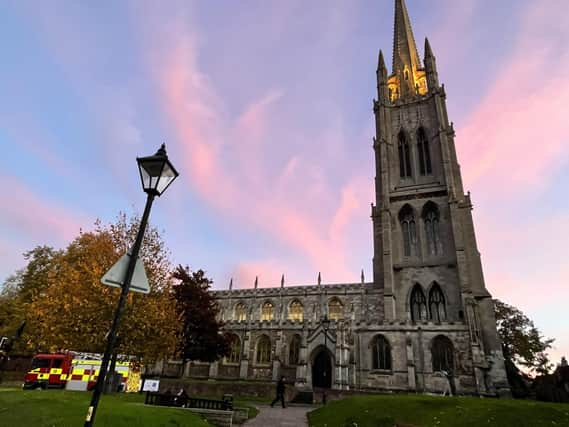 The Louth Run For Life fundraising team are aiming to 'Turn Louth Pink' throughout October for Breast Cancer Awareness month, and have already made a good start by organising to light St James Church in pink for the month.
More than 40 businesses in the town have signed up to the Turn Louth Pink initiative and will be dressing their windows in pink, as well as organising fund-raising events throughout the month, and there will be a competition for best window display.
The campaign will run from Sunday (October 1) to Tuesday, October 31.
Simon West, chairman of the Louth Run for Life Team, hopes to make it an annual event in Louth:
"We proudly want to show our support in the fight against cancer and would like to invite businesses, organisations, and individuals to join us during October.
"We currently organise a range of events and thought this would be a great idea to visually increase awareness while also raising funds."
The Turn Louth Pink campaign has been kindly sponsored by Brocklebank Reclaims, and there will be a number of other events running throughout the month
Numerous events are being organised during the Turn Louth Pink month, including a Pink Themed Quiz at the Brown Cow on Sunday October 15, and a Wear it Pink Walk on Saturday October 21.
Local fitness instructor Stacie Watts has also organised Turn Louth Pink fitness event on Saturday 21 from 8am to 5pm, with many sessions including Zumba, combat, circuits, and glow fit.
CC's Lingerie shop will be arranging a special event with discount on purchases.
MSR newsagents are holding a raffle.
The month will conclude at St James Church, (which will be lit up pink) with a Trick or Treat Concert by Louth Male Voice Choir & The Thoresby Singers.
For more information or to register an interest please contact Simon West at [email protected]
Turn Louth Pink is just part of Louth Run for Life's fundraising efforts during 2023, and coming up next will be the Christmas Louth Tractor Run, which takes place on December 17.