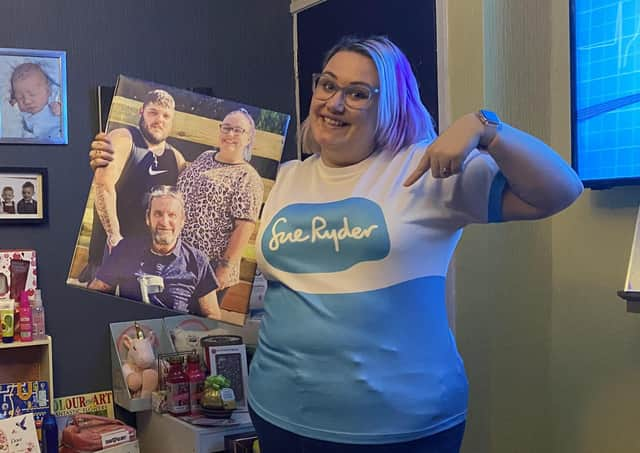 Fundraiser Pippa holding her fathers photo. EMN-210329-200756001
Hairdressing student Pippa Tinsley, from Sleaford, has already raised almost £800 for the Sue Ryder Thorpe Hall Hospice in memory of her dad, Paul (Nigel) Houghton, and hopes to raise more as she gets on her bike for a sponsored cycle from Sleaford to Lincoln later this year.
Pippa hopes her fundraising will keep her dad's memory alive, saying: "We shared our cancer battle together, but unfortunately my dad didn't make it with me."
The 30-year-old cycling novice admits: "I've just got a new bike and started training.
"I've done fundraising before but never on a bike and I raised money mainly for cancer charities, as I had cancer last year aged 29.
"Me and my dad rang the bell just 10 weeks apart, but a few weeks after I rang the bell dad found out his cancer had spread to his brain. He jumped straight into trialling treatments, but they didn't work."
It was the care her dad received at the Sue Ryder Thorpe Hall Hospice in Peterborough which inspired Pippa.
"Because of the pandemic we were only allowed to visit an hour a day, but the hospice staff were always there giving him so much love, care and support," Pippa said.
"I looked at every poster and saw how much money it is to care for one person. I learned Sue Ryder only receives a small amount of government funding – they rely on donations.
"I wanted and needed to do something to help."
Pippa added: "The care given to my dad was literally outstanding. Not only did they keep him pain free, but they made him feel safe. He wasn't just a patient to them – they would go in to see him just for a chit chat.
"The support given to my family will never be forgotten, especially that given to my kid brother and sister. They got a beautiful memory box to treasure forever.
"When the day came one of the Sue Ryder Nurses was with me the whole entire day. She came in and she would listen. I asked questions as I just didn't know what to expect," said Pippa.
"I never expected so much support from the staff then or even now. Thanks to them my dad died with peace while keeping hold of his dignity."
She said: "Dad fought and fought until his last breath. I'm hoping he would be really proud of me. It's hard doing my fundraising in his memory as it still feels raw and surreal, but at the same time, I'm honoured I have been able to raise so much in his memory.
"I hope the funds I raise will help someone receive the care and love my dad did. I hope to raise thousands and thousands for them. I will never stop!"
To support Pippa's fundraising visit https://www.justgiving.com/fundraising/formydadnigelhoughton