'It makes a huge difference' - new mental health group in Boston makes appeal for volunteers to expand its service
A new group in Boston that helps people struggling with their mental health is appealing for extra volunteers so that it can expand its service.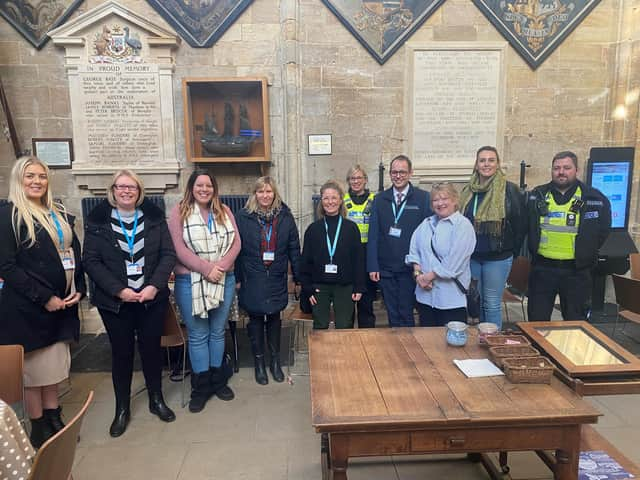 Members of the partnership involved in the BEAM Café and other support services in Boston.
It aims to offer a safe space for anyone (aged 18 or over) in the community who could benefit from a listening ear, peer support, and links to other groups or services, if appropriate; BEAM is an acronym for Building Engagement Around Mental health.
The group launched in February and meets every Tuesday from 12-3pm and Wednesday from 4-7pm at St Botolph's Church, Boston, and since last week, every Monday from 1-3pm at The Black Sluice Café.
A BEAM Café session at the Boston Stump.
It now hopes to extend its service again by launching sessions on Friday evenings in Boston and one during the day in the Wyberton or Kirton area.
The café is organised and run primarily by Heidi Freeman, community connector at St Barnabas Hospice, with the help of local volunteers and support practitioners.
She said: "To grow the BEAM café and make it a success and sustainable, we need the help from local people who will be willing to volunteer to help run the sessions. The non-clinical and personal space that the café offers really does make a huge difference to people's lives."
Among those who have benefited from the café since its launch is Michael Teasdale, who lives in the Boston area.
He said: "I have been suffering with my mental health for many years, and it became more affected after my wife passed away three years ago. Having tried a range of methods and therapies, such as cognitive behavioural therapy, I feel like the BEAM Café has helped me with my mental health the most.
"Heidi and the volunteers are incredible at what they do. They are so compassionate, supportive and helpful; they care about everyone they talk to and have made a huge difference to the lives of not just myself but everyone who uses the groups. To me, the BEAM Café is like a beam of light when you need it most."
For further details about the BEAM Café, and to register your interest in volunteering, contact Heidi on 07833 786816 or [email protected]