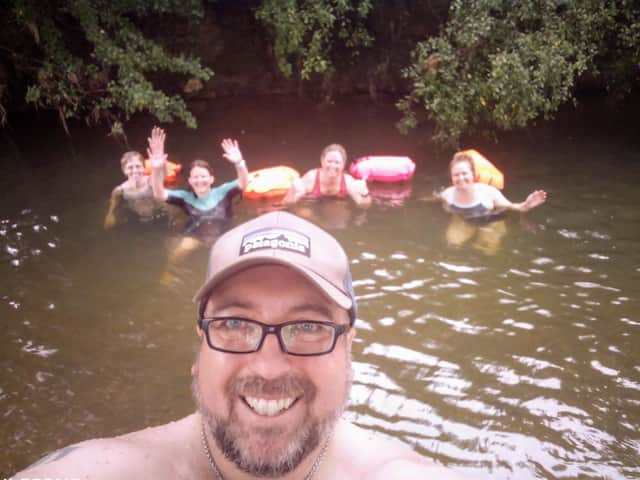 Outside the air temperature may be cooler than the average late summer day - but once the swimmers have waded through the duckweed, the water is positively 'barmy'.
The vision of mud squidging between your toes or being tickled by fish may see most keen swimmers heading for swimming pools - but those who do take the plunge into the county's inland waters insist there is nothing like it for your physical and mental health.
We caught up with the Barmy Army in the River Witham at Tattershall Bridge. "We never say exactly where we are because there is often limited places to park and we don't want to cause any problems - that's why it's best to join a group," said Corinne Grayston, who was first introduced to river swimmer by another Lincolnshire group called LOST.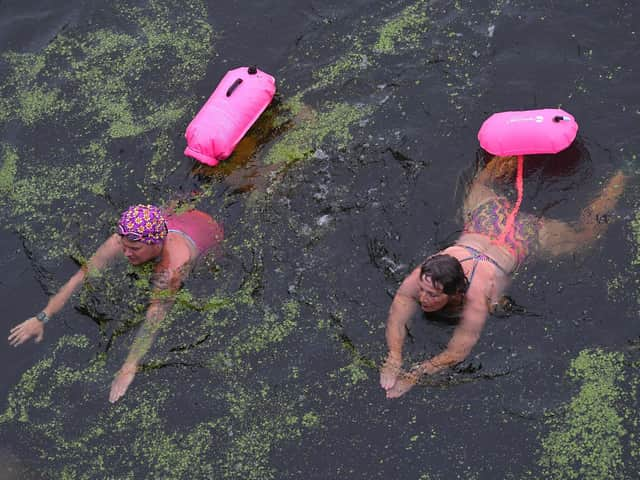 "I used to swim at Sleaford Leisure Centre but much prefer this now.
"At first there was a bit of trepidation - it was like swimming in an infinity pool and I didn't feel as if I was going anyway because we were swimming against the current, which we always do to start with so we don't get tired swimming back.
"But then we turned and we were away - it was an amazing sensation and from that point I was hooked."
Around eight swimmers turned up for the Tattershall Bridge swim and the group is expecting more to join them when they next meet.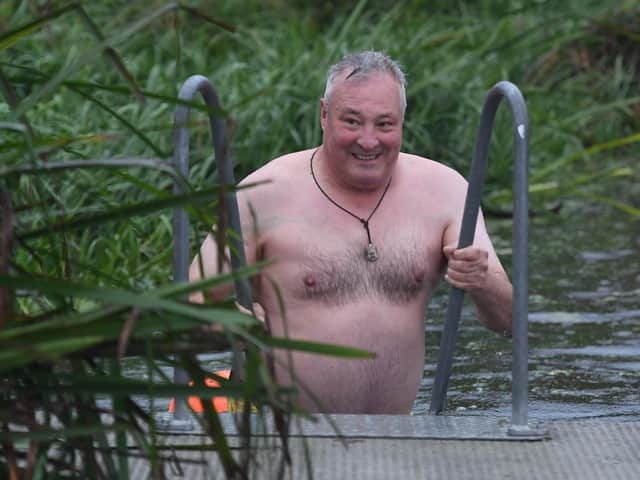 "It may have been raining and cold outside but the temperature of the water was between 18-19C and we swam for about 40 minutes," said Corrine
"It was fabulous - and we even had some spectators on the bridge. I'd spotted them earlier eating fish and chips in their car on the bridge and thought they had come to swim. But I think they might join us next time."
The Barmy Army are not alone. Covid-19 and the closure of swimming pools saw more people than ever heading to Britain's rivers once lockdown was eased - renewing calls for better public rights of access to rivers.
The Canal and Rivers Trust, British Canoeing, the Outdoor Swimming Society and the Angling Trust all report a surge in interest.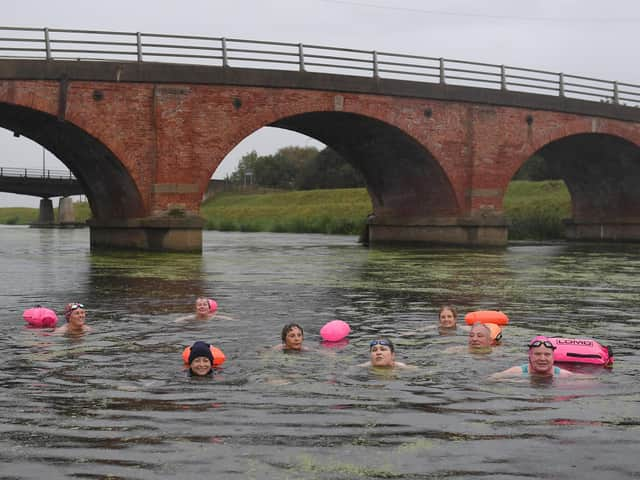 There is currently no "right to roam" on waterways in England meaning if you swim without permission you may be breaking the law - however it is legal so long as there are public access rights as outlined by the Outdoor Swimming Society.
Keeping an eye on when are where conditions are suitable for swimming for the Barmy Army is Vikki Chester, a member who is planning to swim the.Channel in 2022.
As a policy and governance lead for the NHS, she knows first-hand the mental health benefits of cold water swimming.
"You get a mix of people swimming in rivers - some just go for a dip - but all leave feeling good," said Vikki. "Many open water swimmers do it for the mental health benefits.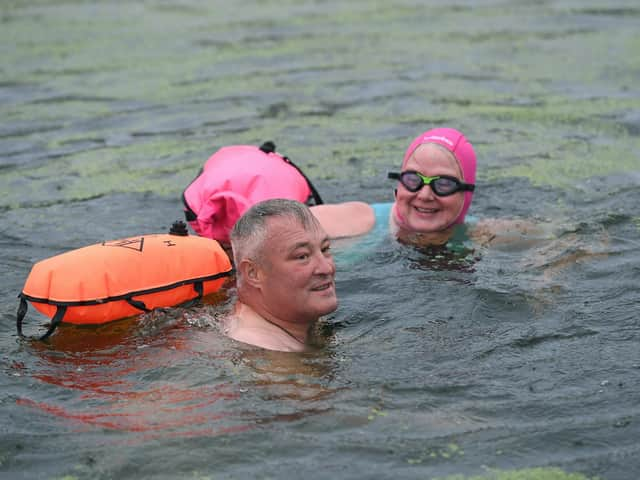 "The most important thing is you don't swim alone and that is why groups are important - you don't want to be calling out the emergency services."
Lincolnshire Outdoor Swimming Tribe (LOST) was established two years ago by Shayne Taylor as a supportive group for outdoor swimmers in Lincolnshire.
Membership has soared 40 per cent to 340 since lockdown began, with enquiries from all over Lincolnshire.
Shayne, who also runs a therapy consultancy, said he first got a love for outdoor swimming in Malta.
"It all started at an early age when I was learning and I was pushed off a cliff in Malta to get over my hesitation to get in the sea - I've never been out of the water since.
"I grew up in Norfolk but my grandparents lived in Lincolnshire and that is how I was introduced to the swimming here.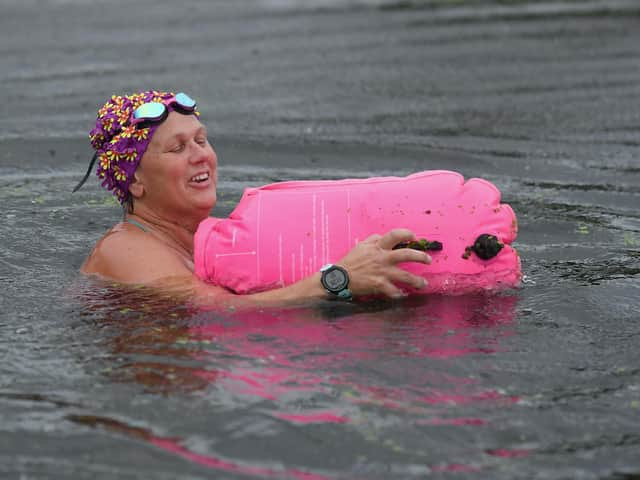 "I guess the main reason I prefer swimming outdoors is I don't like chlorine - people don't realise if you can smell it it means there is bacteria in the water.
"The therapeutic benefits of swimming outdoors are also becoming more widely known.
"People live busy lives and immersing yourself in the water and concentrating on the the currents, living in the moment, gives you a wonderful sense of freedom."
* Anyone interested in outdoor swimming can contact LOST on its Facebook page. For the Barmy Army call 07985151960.
CAMPAIGN TO CLEAN UP RIVERS
Cold water swimmers may not be put off by a little rain, but heavy downpours on days before they are due to meet can be cause for concern.
Last year, The Guardian revealed water firms discharged raw sewage into England's rivers 200,000 times.
The article stated: "The figures, obtained via environmental information requests, trace releases of sewage from storm drains in rivers across England by all nine water companies and provide a comprehensive picture of the scale of pollution from what critics say is the routine dumping of untreated sewage."
The Environment Agency outlines in its 2021 River Basin Management Plan the vital role it play in providing a safe and reliable wastewater service that protects people and the environment.
Water pollution in the past severely affected river catchments, but the Plan says over the last 30 years investment by the industry, better regulation and closer working with communities has changed things.
It states: "Treated wastewater returned to rivers and streams is now much cleaner, but more extreme weather, increasing urbanisation and population growth means that protecting the current state of the environment is likely to prove as difficult as improving it."
However the Barmy Army's Vikki Chester says when there has been heavy rain she would rather be safe and cancel the meeting.
"There's always a risk when there is a heavy downpour," she said.
"As well as the overflows, there is the possibility of pesticides running off fields into the rivers.
"Before we go out there are other things we consider, too, such as the depth of the river, the flow and overhanging trees."
Locally, campaigners are already calling for action to improve the quality of the water against other pollutants.
Roberta Bray is a member of 'Plastic Free Sleaford' - part of the Plastic Free Communities organised by Surfers Against Sewage.
"Our aim is to mobilise local communities to fight the scourge of single use plastic which is polluting our beaches, rivers and green spaces.

"Many communities run their campaign via social media to inform and highlight ways in which we can all change our habits with the ultimate aim of freeing where we live from avoidable single-use plastic."

A number events are being held this Autumn through to October, as part of the first ever #GenerationSea: Plastic Protest.
Thousands of environmental activists are being called to join up to challenge the companies responsible for unnecessary, avoidable, single-use packaging at beaches, rivers, streets, parks and mountains around the UK.

Letters have been sent to MPs asking them to sign the #GenerationSea pledge, along with letters to the Prime Minister.
Councils will also be petitioned to declare a climate emergency.
Roberta said: "Our goal is to inspire our communities around the issues we face and take action together.
"We have 10 years left to save the ocean. We want to end single-use plastic pollution on UK beaches and sewage discharge into UK bathing waters by 2030.
● Avoid single-use plastics in the house e.g cleaning products, shampoo

● Refuse a straw or stirrer in your drink.

● Take your litter home for recycling

● Take your own shopping bags

● Refuse single-use condiment sachets

● Join one of our community cleanups (keep an eye on social media for litter picks)

● Remember your refillable water bottle or coffee cup.

● Find alternative to single-use packaging

● Look for refill shopping options

Here are the Top 10 Single Use Plastic Offenders (and some UK based facts **)

1. Plastic bottles, tops, cups and cartons (38.5 million bought everyday)

2. Coffee cups and lids (7 million used everyday)

5. Avoidable food packaging (112,000 pieces distributed every minute)

7. Bathroom plastics: toothbrushes, disposable razors, cotton buds, shampoo and

conditioner (28 wet wipes found per mile of beach, 93% sewage blockages are caused

10. Balloons (1 in 3 seabirds that die are found to have balloons in their stomachs)