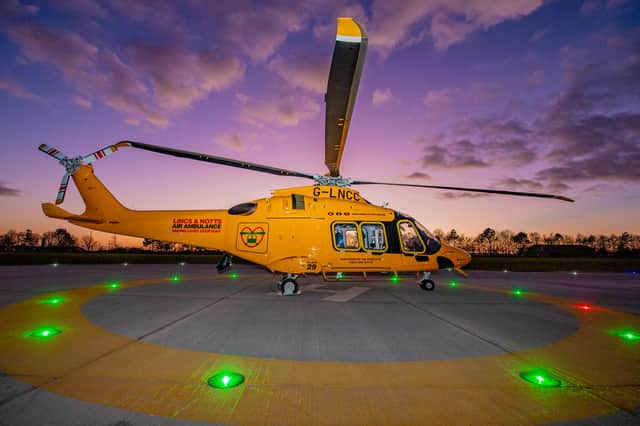 A total of 1,003 incidents took place in Lincolnshire and 441 in Nottinghamshire, with the rest in neighbouring counties – 130 more incidents than in 2021 – with patients taken to hospitals including Nottingham's Queen's Medical Centre, Hull Royal Infirmary, Lincoln County Hospital and Sheffield Northern General Hospital.
Last year saw further service enhancement at LNAA, including becoming fully registered with the Care Quality Commission (CQC), increased night flying, carrying more blood on board to being dispatched to more incidents than ever.
LBAA chief executive, Karen Jobling said: "This year has certainly been busy for the charity as a whole and we anticipate being even busier in 2023.
"Registration with the CQC means that we are now clinically independent, able to develop our services based on the very specific and critical nature of the on-scene care given by our HEMS (Helicopter Emergency Medical Services) team.
"Our crews can now adapt quicker to emergency advances in drugs and treatments which will ultimately benefit the patients we treat."
June was a particularly busy month for the air ambulance, with crews attending 19 patients in just one weekend who needed a range of care including anaesthetics, blood transfusions and surgical interventions.
On top of this, 602 night missions were carried out, more than double the amount undertaken in 2021.
All pilots, doctors and paramedics were trained to use specialist night vision goggles, and the helicopter is able respond to incidents for 19 hours a day, from 7am to 2am the following morning. This makes LNAA the only air ambulance in the East Midlands operating throughout the hours of darkness.
The amount of blood carried on board the helicopter and critical care cars has increased to four units of red blood cells and four units of fresh frozen plasma, and 49 patients received blood products last year, with a total of 146 units of blood products being transfused.
Karen summed up the year by adding: "There are exciting times ahead for LNAA, as we continue to challenge ourselves to improve and deliver our life-saving service to increasingly more people each year. All this is only possible with the support from the communities and organisations in Lincolnshire and Nottinghamshire as we receive no direct funding from the Government.
"Last year we needed £8million to operate 24 hours a day, seven days a week and we know that with increased costs and increased demand this cost will increase in 2023.
"We thank everyone who has supported us over the last twelve months and enabled us to continue to be by the side of patients, day and night."
For more details on how to support the LNAA's vital work, visit www.ambucopter.org.uk