History re-enactor Lewis Kirkbride, 37, is on a 20-day march recreating the ill-fated 300-mile route taken by King Harold II in 1066 from York to Battle, near Hastings, weighed down by an authentic four-and-a-half stone suit of armour, a sword and spear.
Father-of-two Lewis, from Durham is taking his passion for Anglo-Saxon history to raise funds and awareness for men's mental health social enterprise, ManHealth and to combat cases of suicide in men.
Setting off on Friday, September 25, he will be passing through the area this week, averaging about 20 miles a day and is already 90 per cent of the way towards his original target of £10,660 after a jump of £5,000 in the last week and has now upped his sights to raise £15,000.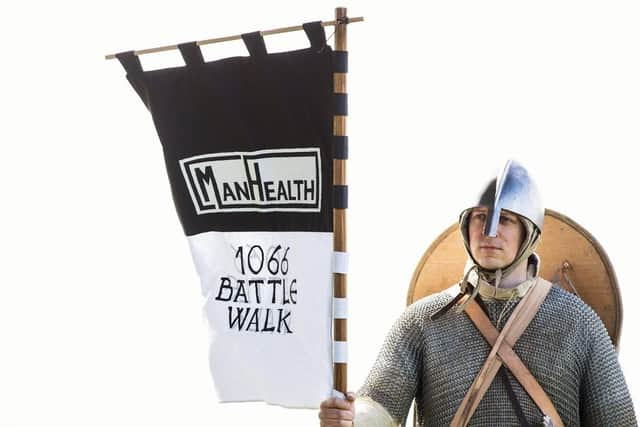 A keen reenactment hobbiest, Lewis has performed and mentored at festivals, and has done months of training to reach the level of fitness required to endure the walk for a cause he has a very personal stake in.
Lewis said: "I've been training hard sometimes three, four or five times a week, and people are starting to recognise me out and about – it's a real boost when people I pass give a friendly shout or beep."
He added: "I'm thrilled that we've already raised so much money and I'm delighted that we're raising awareness and cash for such a worthwhile cause as ManHealth CIC.
"With male suicide the highest it's been for 20 years and County Durham experiencing some of the worst male suicide statistics in the UK, the recent lockdown and social distancing restrictions couldn't have come at a worse time.
"King Harold facing foes on all sides and being weighed down in armour is a good metaphor for what people with depression and mental ill health are going through everyday."
Harold had to defend his kingdom by first defeating a Viking army near York on September 25, then marching south in 20 days to face the Norman invaders at the south coast on October 14.
"Like the battles of 1066, mental health problems can invade your life and attack from all sides," said Lewis. "We do our best to fight, but putting on a brave face every day takes a lot of energy – a bit like heavy armour weighing down on our shoulders every step of the way.
"Hopefully my march will have a happier ending than Harold's, and even though it'll be a solo journey with lots of ups and downs I'm looking forward to talking to lots of kind and helpful people along the way. I will need help at each stop on my route, and a bit of company will be very welcome. It all proves that we all have our struggles, but if you're willing to talk, there's always someone willing to listen."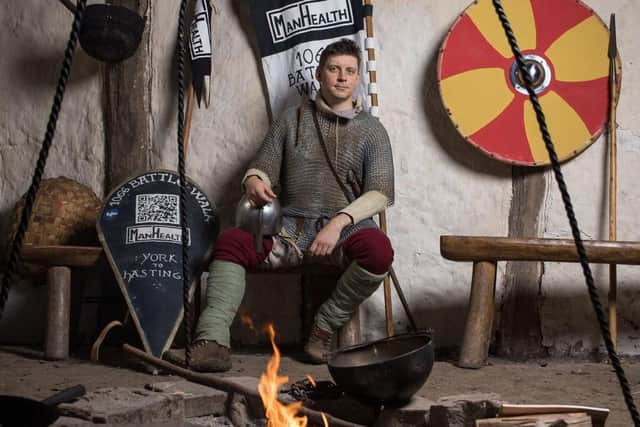 Lewis began his monumental progress from Stamford Bridge outside York to Hastings in Sussex mapping the ill-fated route of King Harold and his army.
Lewis said: "My hobbies and interests in history helped me get through some difficult times, yet Covid-19 has caused so many events and activities to be cancelled this year – it's worrying to think about how many people are feeling isolated and cut off at the moment.
"The walk combines my interests with some really important issues, and gives me something to focus on – though I sometimes wonder what I've got myself into here."
Lewis hopes his epic 20-day medieval challenge will inspire other men to get talking: "Men still aren't asking for help or talking when they need to. It can feel like we are alone with nowhere to turn when mental health services and communities around us are struggling to support these men – but I want to show that people are willing to listen. Nobody needs to suffer in silence.
"Organisations like ManHealth are so important at a time when suicide is the biggest killer in men under 50. People looked at me and saw a healthy young man with a job, a home, a wife and a happy family, but I was losing my own battle with depression and anxiety. My hobbies in medieval combat gave me an important link to my sense of self and to other people, but I wish I'd got talking about my mental health much sooner."
Lewis has two young boys and a successful career in a public support and advice role.
He said: "Depression can strike anyone at anytime; I had a tough few years and couldn't open up to family or friends – it wasn't that they didn't care, but things were complicated and taking the first step was a struggle."
"When I met Paul Bannister, founder of ManHealth, in 2018 and heard about the free peer support groups, I thought then if this was something I'd known about it would definitely have helped me."
Since its launch in 2018, ManHealth has opened 13 peer support groups across the North East and has launched a webchat and connect service, making it easier for men further isolated by the global pandemic and approaching crisis to access support.
Lewis' route takes him through our area over the next few days
• Day 6 (Wednesday) – Lincoln to Sleaford 21.7 miles – Starting point Lincoln Cathedral
• Day 7 (Thursday) – Sleaford to Threekingham 7.5 miles – Starting point Navigation House visitors centre off Carre Street, NG34 7ZD
• Day 8 (Friday) – Threekingham to Bourne 12.0 miles – Starting point Manor Lane/Laundon Road junction
• Day 9 (Saturday) – Bourne to Peterborough 16.1 miles – Starting point Bourne Library PE10 9EF
• Day 10 (Sunday) – Peterborough to Sawtry 11.1 miles – Starting point Peterborough Cathedral
• Day 11 (Monday) – Sawtry to Papworth Everard 17.9 miles – Starting point Sawtry Post Office PE28 5UR