Louth carer takes home BBC Make a Difference Carer Award
​​An activity coordinator at a Louth care home has received a highly coveted award for her services in social care and enhancing the lives of those she cares for.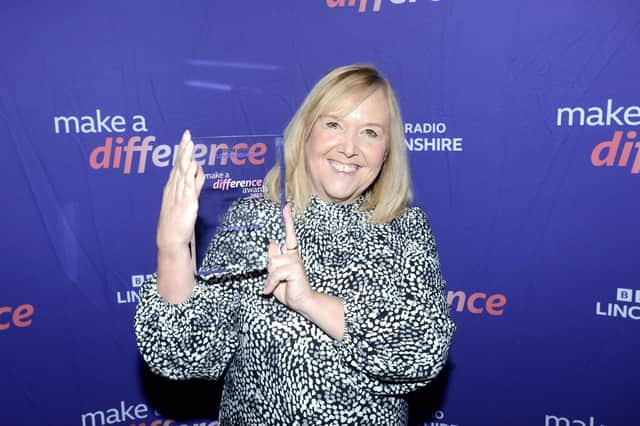 Sharon Gaffney, an employee at The Wolds Care Centre, took home the BBC Make a Difference Carer Award for her outstanding contribution to her work, not only by providing ample activities, but also the relationships she creates with the residents – to the extent that one resident changed her end of life plan to have Sharon by her side.
Her role at Wolds Care Centre – owned and managed by HICA Group – is the first time Sharon has worked in the care sector, following a career as a dance teacher.
Since she joined Wolds Care Centre just a year ago, Sharon has been praised for her innovative and personalised approach to care and the way she creates and delivers activities for the residents.
Sharon said: "Winning this award means so much to not just me but my wider team members. However, I think we all agree that the real reward lies in the everyday moments at The Wolds - seeing happiness on our residents' faces, hearing their laughter, and being part of their journey.
"Our activities go beyond enjoyment, they enhance overall health and wellbeing, and it feels amazing to make a genuine difference to people's lives."
The activities specifically developed by Sharon and the team, including Yoga to Tai-chi chair-based exercises,have also received positive feedback from residents themselves and their families.
Michaela McGlynn, the manager at Wolds Care Centre, said: "Sharon brings something extra special to our home. It's not just about activities; it's about relationships. She constantly goes the extra mile, making every effort to get to know our residents intimately.
"Her personalised touch is evident in every interaction, from discussing their likes and dislikes during mealtimes, to understanding their deeper emotions and needs.
"As an example of the impact she's had on our residents, one lady who is receiving palliative care initially wished to pass away on her own but later updated her care plan, expressing her desire to have Sharon by her side during her final moments."