Louth Hospital suspends overnight urgent care due to industrial action
Louth Hospital is suspending overnight urgent care until Thursday this week due to industrial action.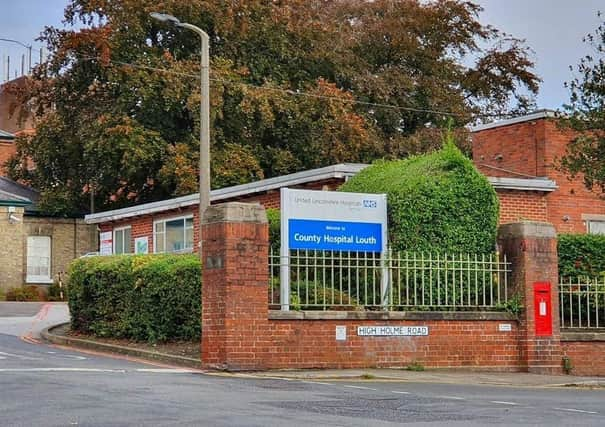 Industrial action by British Medical Association (BMA) and Hospital Consultants and Specialists Association (HCSA) is planned from 7am today (Monday) until 7am on Thursday (October 5), with consultants and junior doctors on strike.
As a result, opening hours will change temporarily at the Urgent Treatment Centre (UTC) in Louth.
Today, tomorrow, and Wednesday October 4 will see the service open from 8am to 8pm and will close overnight (8pm to 8am), with normal service resuming from 8am on Thursday.
You are asked to attend booked NHS appointments unless you are directly contacted to alter it.
If you live in Louth and planned to visit the UTC overnight, Lincolnshire Community Health Services NHS Trust is urging patients to visit NHS 111 online to access suitable alternative services.
The trust has also emphasised that it is important that patients who need urgent medical care continue to come forward as normal, especially in emergency and life-threatening cases - when someone is seriously ill or injured, or their life is at risk.
In an emergency or life-threatening situations, call 999.
Mental health support is available during this time via the local 24/7 mental health helplines on 0800 001 4331, or 0800 234 6342 for children, young people and their families.
Andrew Morgan, Group Chief Executive of Lincolnshire Community Health Services NHS Trust and United Lincolnshire Hospitals NHS Trust, acknowledged that this will be "a particularly challenging few days".
He said: "We are entering the eleventh month of industrial action across the NHS and staff continue to work hard to provide patients with the best possible care under the circumstances.
"This period of strike action will impact on a larger number of hospital appointments than previous industrial action across Lincolnshire and we are working hard with our colleagues across the Lincolnshire NHS system to prepare and protect our most urgent services.
"People in Lincolnshire can help by taking simple steps during industrial action to look after yourself, loved ones and checking in on vulnerable family members and neighbours.
"In addition, NHS 111 online, GP practices and local pharmacies are open and able to offer advice and help. In Lincolnshire we also have the Waitless App, which can be downloaded and enables you to view live waiting time, queue numbers and travel time information for our urgent care facilities in the county."