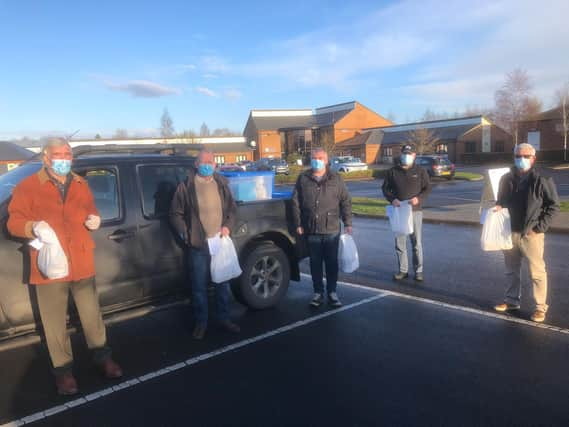 Freemasons and Skegness Rotary Club members in the east of Lincolnshire have made sure that people across large parts of the county are getting regular square meals – as well as support for other needs which they might otherwise struggle to get.
The service is now gearing up to be a permanent fixture, ready to expand and include more diners who need the support of its twice-weekly deliveries.
Freemason father and son team Mike and Jamie Bristow and their families began preparing Meals on Wheels at the start of the first lockdown in March, sending them to Louth, Alford, Skegness, Horncastle and Spilsby.
They've been doing it without a break ever since, preparing about 200 meals every week, delivered on Wednesdays and Saturdays by a squad of volunteers made up of Freemasons and Skegness Rotary Club members co-ordinated by fellow Freemason Phil Odling.
So welcome has the service been that the Bristow family wants to know of any other people they can help with deliveries, said Phil.
He said: "The Bristows believe there are more vulnerable people whose lives would be improved with access to a home-cooked meal a couple of times a week. The food isn't free, but it's extremely good value, and brings with it a bit of human contact. Mike speaks to every client every week, and sorts out orders.
"The service has become far bigger than they ever imagined it would, and it's fulfilling a vital role."
The Bristows – Mike and Jamie, with help from their wives Angie and Bec, and Jamie's sister Hannah – prepare the food at their coffee shop The Old Warehouse Larders in Louth. The food is all microwavable, and can therefore be quickly prepared by carers or the diners themselves.
Said Mike: "At the start of the first lockdown we offered our services to the Louth Freemasons to see if we could help out with Meals on Wheels, because our kitchen would otherwise have been closed, as were most businesses. With our cooking and the delivery efforts of the fantastic team of Freemasons and the Skegness Rotary Club we started delivering Meals on Wheels to anyone that opted in, thinking we might deliver a couple of hundred meals a month until lockdown finished. Little did we know!
"Since then we have agreed to keep the service running. We've delivered to Louth, Horncastle, Spilsby, Skegness, Croft, Woodhall Spa, Market Rasen, Lincoln, and other villages in between."
But the service isn't simply about delivering food, he says. The help provided has included building stairs and railings for one lady who was unable to get into her own garden; doing some gardening and essential repairs for others, and even setting up internet connections.
Said Mike: "One aspect that can get lost is the mental health of those receiving the meals. Some are widows and widowers, and my weekly telephone call to them and a quick chat with the delivery volunteer is the only communication they have outside their own families."
The Freemasons' Provincial Grand Master Dave Wheeler said: "The achievement of Mike, his family, and the volunteers supporting them is remarkable. I'm particularly pleased the Freemasons and the Skegness Rotarians are able to work together to make this initiative possible. It's one thing to cook and deliver a lot of meals for a week or two, but to continue doing so week in, week out requires a particular kind of dedication and determination. Together they are making a positive difference to the quality of life for members of the community who have come to rely on the service, and I take my hat off to everyone involved."
Do you know of someone struggling to get regular nutritious meals? Are you struggling yourself? Call Mike Bristow on 07540 660351 for more details of the Meals on Wheels service, and to see if it can help.