Motorbike meet up for hospice care patient
---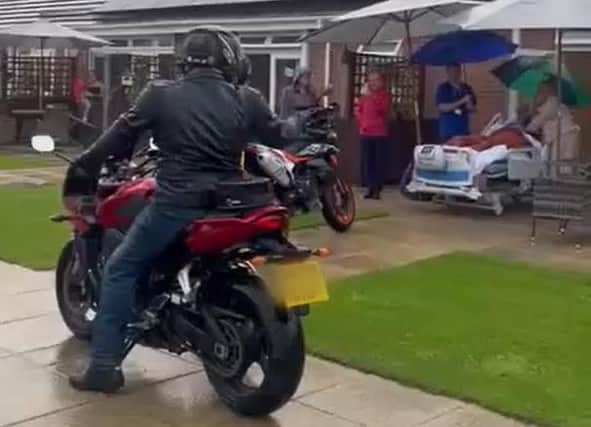 *Motorbike meet up for palliative care patient brings joy to Boston's
A patient at the Butterfly Hospice Trust in Boston received an extra
special care package this week as staff from Lincolnshire Community Health
Services NHS Trust (LCHS) arranged a private motorbike meet up.
palliative care at the Hospice after he was diagnosed with several
aggressive brain tumours in April this year. The hospice works in
partnership with LCHS and is supported by the LCHS nursing team.
LCHS Health Care Support Worker, Kath Hunt, arranged for Simon to be at the
centre of a bike meet up, straight from his hospice bed, after they bonded
over their shared love of motorbikes. The bikes pulled up at the hospice,
and Simon was taken outside to enjoy the moment and have a chat with the
Kath said: "I wanted to make some special memories for Simon and his wife,
and just thought it would be nice thing to do. He was quite emotional, but
he was so grateful. I've been chatting with him about it ever since and
heard him talking to friends about it today.
"It's important to me to get to know my patients and what their interests
are so that I can deliver the best, most holistic care possible. Seeing how
happy it made him made it so worth it."
Not only is Simon a bike enthusiast, but in his younger days he would race
Kim Robinson, Simon's wife, said the team went above and beyond to bring
joy to Simon and their family during extremely difficult circumstances. She
said: "When I first met Simon he used to race motorbikes at Cadwell Park,
it's always been a passion for him.
Then when we had our daughter, he downgraded slightly to a Ducati and would
just enjoy leisurely track days, but he has always been a bit of a
"When Kath mentioned about the meet up, I thought it was such a wonderful
thing to do. I can't put into words what it meant to Simon and our family.
The team at the Butterfly Hospice have gone above and beyond for him time
and time again. Nowhere matches this place and I wouldn't want him to spend
this time anywhere else."
Staff members at the hospice came out in force to attend the meet up, even
staff who were not due to work that day turned up to show their support and
enjoy the time with Simon and his family.
LCHS and United Lincolnshire Hospitals NHS Trust (ULHT) Group Chief
Executive, Andrew Morgan, said: "This is a wonderful example of how LCHS
staff go above and beyond for patients every single day. Really
understanding the needs of Simon and his family at this point in their
journey shows just how personal the care from the team at the hospice is.
I'd like to say a personal thank you to the team and to Kath for making
*Ellie Stocker (she/her) *| Communications Manager
Lincolnshire Community Health Services NHS Trust
Beech House | Witham Park | Waterside South | Lincoln | LN5 7JH
*Communications:* 01522 302000
*Confidentiality Statement Disclaimer:* This email and any files
transmitted with it are confidential and intended solely for the use of the
individual or entity to whom they are addressed. Therefore if the reader of
this message is not the intended recipient, you are hereby notified that
any dissemination, distribution or copying of this email is strictly
prohibited. Any views or opinions expressed are those of the author and do
not necessarily represent the views of the NHS in Lincolnshire unless
otherwise explicitly stated. The information contained in this email may be
subject to public disclosure under the Freedom of Information Act 2000.
Unless the information is legally exempt from disclosure the
confidentiality of this email and your reply cannot be guaranteed.
**************************************************************************************
******************************
This message may contain confidential information. If you are not the
intended recipient please:
i) inform the sender that you have received the message in error before
ii) do not disclose, copy or distribute information in this e-mail or take
any action in relation to its content (to do so is strictly prohibited and
Thank you for your co-operation.
NHSmail is the secure email, collaboration and directory service available
for all NHS staff in England. NHSmail is approved for exchanging patient
data and other sensitive information with NHSmail and other accredited
For more information and to find out how you can switch visit Joining
NHSmail – NHSmail Support